News • Review highlight need
Lung cancer screening: experts appeal for wide implementation of LDCT
A new review, conducted by Professor John Field from the University of Liverpool and Professor Matthijs Oudkerk, University of Groningen, provides an authoritative insight into the current status of lung cancer screening.
The review has now been published in Nature Reviews Clinical Oncology.
Lung cancer kills more people than any other cancer. The number of deaths in 2017 in the UK was 3,300, making lung cancer the commonest cause of cancer death in the UK for both men and women. The majority of patients with late stage disease (stage IV) lung cancer die within five years of diagnosis. However, patients with early stage disease (stage 1A) have a less than a 75% chance of survival over five years.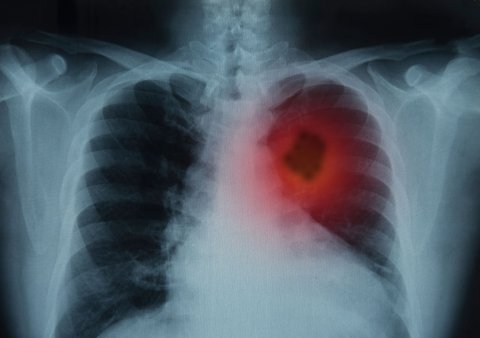 The role of Low Dose Computed tomography (LDCT) screening has been under debate for five decades. The screening uses a low dose of an imaging procedure that uses special x-ray equipment to create detailed pictures, or scans, of areas inside the body. The screening can detect smaller nodules or cancer than standard chest X-rays. The results of two major clinical trials, The US National Lung Cancer Screening Trial (NLST) and The Dutch-Belgian Randomized Lung Cancer Screening Trial (Dutch acronym: NELSON study) have provided evidence on lung cancer-related mortality reduction as a result of LDCT.
LDCT-based screening programmes for individuals at a high risk of lung cancer have already been implemented in the USA. Furthermore, implementation programmes are currently underway in the UK following the success of the Liverpool lead UK Lung Cancer Screening (UKLS) trial, which included the Liverpool Health Lung Project, Manchester Lung Health Check, the Lung Screen Uptake Trial, the West London Lung Cancer Screening pilot and the Yorkshire Lung Screening trial.
There is now conclusive evidence that low dose CT screening reduces lung cancer mortality and as lung cancer kills more individuals every year than any other cancer, it is imperative that lung cancer screening is implemented quickly to save lives

John Field
In the review, the authors focus on the current evidence on LDCT-based lung cancer screening and discuss the clinical developments in high-risk populations worldwide and address the cost-effectiveness of such programmes. The authors also propose a framework to define the scope of future implementation research on lung cancer screening programmes referred to as Screening Planning and Implementation RAtionale for Lung cancer (SPIRAL).
The senior author of the review is Professor John Field from the University's Department of Molecular and Clinical Cancer Medicine and the Roy Castle Lung Cancer Research Programme. Professor Field said: "There is now conclusive evidence that low dose CT screening reduces lung cancer mortality and as lung cancer kills more individuals every year than any other cancer, it is imperative that lung cancer screening is implemented quickly to save lives, despite the fact we are still within the COVID-19 pandemic."
Source: University of Liverpool