Image source: Adobe Stock/Stasique
Article • Five-year EU project to avoid heart damage in oncology patients
Cardiac collaterals in breast cancer therapy
Modern cancer therapies are tough on the tumours, but often, also on the heart of the patients. The "CARDIOCARE" project aims to reduce the cardiac burden of anti-cancer therapies through more patient-tailored treatment approaches. At the ESC 2023 cardiology congress, Professor Katerina Naka from the project's consortium explained why older patients are at the highest risk of cardiotoxic complications and how cutting-edge technologies could provide oncologists and cardiologists with better means to help their patients.
Report: Wolfgang Behrends
As breast cancer cases are rising in Europe1, more patients develop cardiovascular complications as a side-effect of the treatments. The advent of new therapies has proven a double-bladed sword in this context, Prof Naka explained: 'Now we have monoclonal antibodies, new therapies, checkpoint inhibitors,' the cardiologist from the University of Ioannina, Greece, said. These treatment options, while effective against the cancer, take a heavy toll on the patients' hearts, especially in older women.
The EU-funded "CARDIOCARE" project, conducted by a consortium of partners across Europe, seeks to mitigate the damage of cardiovascular complications in women over the age of 65. This includes not only physical side-effects on the heart, but also their impact on mental health. 'The main focus of the project is elderly patients,' Naka reported; even though this patient group makes up about half of the population with breast cancer, they are currently not well-represented in clinical trials. Often, they present with pre-existing heart disease, leaving them highly susceptible to cardiac and cardiovascular toxicity of anti-cancer treatments.
Exploiting new technologies to gain insights
To improve outcomes for older patients, the project explores ways to implement new technologies: 'We need to take advantage of what technology has to offer: artificial intelligence, digital health, electronic health applications for both physicians and their patients,' the expert stated. These tools, including mobile apps, wearable sensors, and novel biomarkers, could be used to improve physical health and providing patients with psychological and behavioural assistance in managing their disease.
Recommended article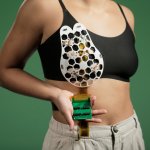 News • Wearable for monitoring
A new device, designed by MIT researchers, could detect breast cancer earlier. The scanner, which can be incorporated into a bra, could allow more frequent monitoring of high-risk patients.
At the core of the project is a clinical trial, which will evaluate the impact of these measures on the cardiotoxic effects of breast cancer treatment, as well as the patients' quality of life, in 750 women across Europe. A dedicated smartphone app will provide the participants with various forms of support. Depending on the trial group, the women will receive either monitoring of physical and mental health development with the assistance of wearables, behavioural encouragement in the form of lifestyle and dietary recommendations and memory improvement games, or both.
The insights gathered from this trial will be assessed by cardiologists, oncologists, psychologists, molecular biologists, bioinformaticians, computer scientists and biomedical engineers with the ultimate aim to improve treatment strategies. Their expertise will be complemented by next generation sequencing and AI analysis of cardiac imaging to find markers for early identification of breast cancer patients who are most at risk to suffer heart and vascular damage from their anti-cancer treatments.
Concluding her statement with an outlook, Prof Naka hoped to see the insights gained from the CARDIOCARE project discussed in the next two or three years. 'With increasing age and deteriorating heart health, many breast cancer patients become complex, and we have to do something about it,' she said. 'I think an important first step is education and training of the physicians involved – both oncologists and cardiologists – and providing them with guidelines to help.'
Profile:
Katerina Naka is an Associate Professor of Cardiology at the University of Ioannina, Greece. She is a member of the Hellenic Cardiac Society and the European Society of Cardiology (ESC) as well as the ESC's Heart Failure Association. Her research interests are in the study of structural and functional vascular indices in heart failure patients, and cardiac imaging, with a focus on echocardiography, hybrid imaging and invasive imaging methods.
Reference: