Personalised medicine?
'How do you treat the HIV-positive, diabetic, schizophrenic patient presenting with chest pain? By making the necessary information available for personalised medicine'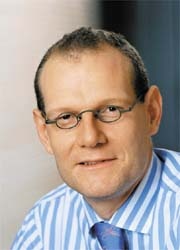 Integration has become a keyword when discussing present and future challenges in healthcare worldwide. Companies such as Siemens have already begun to change business concepts by offering services that cross departmental boundaries. However, the basis of full integration is a good IT network and compatible technologies. Daniela Zimmermann, of European Hospital, asked Tom Miller, CEO of Workflow and Solutions, Siemens Healthcare, and Dr Bernd Montag, CEO of the Imaging and IT Division of Siemens Healthcare, about the huge challenge they face.
In addition, in the article 'Diagnostics: Uniting the lab and radiology' (Laboratory section of European Hospital — page 10) Jackie McDowell, Head of Integrated Diagnostics and Market Development at Siemens, presents further reasons behind the Siemens Healthcare acquisitions of DPC, Bayer Diagnostics and Dade Behring.
DZ: How will integration benefit healthcare?
Dr Bernd Montag: Progress in medical imaging – working closely with laboratory diagnostics by using sophisticated information technology – will lead to an earlier and more reliable diagnosis and localisation of diseases, for example cancer or cardiovascular diseases. Already many examples, such as the diagnosis of breast cancer, show that the combination of in vitro and in vivo diagnostics increases the quality of care significantly. If, for example, the existence of a tumour can be verified using a lab test, then it can be localised and typified by using innovative imaging methods, such as mammography, ultrasound or magnetic resonance tomography.
On the other hand, medical imaging plays an important role in the field of acute care, (e.g., when trauma patients must be examined quickly). The University Hospital Erlangen recently installed our brand new CT system, the SOMATOM Definition AS, directly in their trauma centre. Now, patients can be examined from head to toe within seconds.
We should also note the enormous potential of such innovative systems in the field of functional imaging. Here, trendsetting technologies, such as ultra-high-field magnetic resonance imaging, allow an unprecedented view into the human body. This, for example, dramatically increases our understanding of the causes of many neurological diseases, such as Alzheimer's or Parkinson's. This understanding of the genesis of diseases is the prerequisite to develop new and even more individualised therapies for people all around the world, as well as to discover new possibilities in preventing diseases.
DZ: Although everyone is discussing the full integration of medical workflow, no-one seems to have a clear idea what it really entails. So, first, who is involved in any kind of integration?
Tom Miller: The answer is simple: Everybody! Looking at the near future, most very forward thinking healthcare providers are looking at care teams, instead of single clinicians, because the likelihood that a single individual could assess all the medical knowledge necessary to handle the complexity of care that our aging population requires is increasingly low. The real problem for hospitals will become patients with three or four conditions. For example, to exaggerate that, it could be a HIV-positive, diabetic, schizophrenic patient with chest pain. Therefore, it's not a single clinician who will treat that patient, but a whole team. In this scenario, a question arises: How can we co-ordinate all the data and how do we ensure the team works efficiently? So every clinician would be frustrated by the lack of holistic information surrounding the patient.
Another example, if a patient has shown up for a radiology examination, and the radiologist does not know what to image, that is a worse case scenario of inefficiency – and it's not that rare. An analogue problem occurs looking at treatment options: How does knowledge arrive today? Most often through epidemiology — in other words, we must wait ten years, see what happens to the patient, and then change the standard of care. Again, the problem is due to a lack of available information.
So, in terms of integration, this not only means creating teams but, more importantly, also creating networks of knowledge – through IT. This can be used to bring epidemiological data together, by collecting relevant data from all over the world. So information about treatment options can be obtained in six months instead of ten years.
Another example: Only ten years ago the breast cancer death rate was significantly higher and it was seen as only one disease. Now we know there are different forms and these may be diagnosed through digital mammography followed by biopsy, which then leads to a blood test to evaluate HER-2/neu serum levels that show a special protein. Its presence can lead to a Herceptin regimen, which is only effective in a certain type of breast cancer, and contra indicates for certain chemotherapy agents that are given at the same time, and can cause congestive heart failure. So, cardiac enzymes must also be tested.
That example describes a very personalised treatment for a particular breast cancer, which is only possible with the ability to bring all the pieces of information together – via a personal exchange as well as a technological exchange.
Are these future scenarios, or are they happening already?
TM: The availability of information and a clinical workflow based on IT is already happening with our Soarian system. To continue the example of breast cancer, we can take women from screening to biopsy, testing, guided chemotherapy, surgery, through to radiation therapy with all the data from her pre-existing therapies, which are necessary to understand each single step along the treatment of that disease.
Of course this is a very ambitious approach, but we are already very successful with it; Soarian already runs in seven hospitals in Europe with 57 automated workflows. Some university hospitals, such as the University Hospital Eppendorf in Hamburg, Germany, are very forward thinking. They plan to implement Soarian and, from the CEO down, only speak of the optimisation of care processes throughout the enterprise.
The advantage of our Soarian is that we have designed the system to take into account the fact that information comes from many different places. It is the only service-oriented architecture that can manage and process data from other sources and treat it as if it were integrated – a single source. This is the only way such a data process can work, because there are hardly any hospitals working with homogenous IT and technologies across all departments.
How does Siemens deal with its own internal integration of different business units?
TM: It's a huge change. Siemens established a new organisational structure and created the Workflow and Solutions division to co-ordinate all our business units: cardiology, women's health or oncology, aiming to figure out how best to take this incredibly rich set of technological resources and apply it efficiently to these disease settings. It's also an absolutely new approach – applying a disease-centric focus, rather than a technological focus to solutions. It's a huge opportunity that will provide us with the tools to manage future healthcare challenges