Titanised ilicone breast implants
Every year, about 250,000 US women have silicone breast implants either after cancer surgery or for cosmetic purposes. However, despite advances in substances used in the implants, the risk of foreign body reactions remains. In extreme cases, due to capsular fibrosis, the encapsulated, deformed and hardened implants must be removed and replaced.
Implants presently in use consist of a smooth or textured silicone shell filled with a silicone gel or saline solution. The latter has one decisive drawback - the breast may cool considerably in winter. Smooth silicone implants may also shift or turn.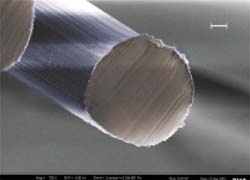 Currently most surgeons opt for textured plastic silicone shells filled with silicone gel. Plastics are used to great effect in many medical fields without showing such dramatic side effects as in capsular fibrosis, so cosmetic surgeons have hoped for a more biocompatible coating for some time. Finally, at last year's German Surgeons' Association Congress, surgeons were introduced to breast implants made from a brand new composite material called titanised plastic, developed by GfE-Medinzintechnik of Nuremberg.

The development of this titanisation technology was a genuine engineering challenge, says GfE-Medinzintechnik. In 1996, the Bavarian Research Association for Biomaterials launched the Forbiomat Research Project to develop biocompatible implant materials. The industrial partner on that research project was GfE-Gesellschaft fuer Elektrometallurgie, Nuremberg, the parent company of GfE-Medizintechnik. The firm has worked in metals, ultra-thin coatings and high-tech materials for almost a century, and produced titanium coatings for hip implants - with proven biocompatibility.

Using titanium the firm produced the new composite material titanised plastic for breast implants. In these, the plastic substrate is coated with just a few atomic layers of titanium (c. 30 nanometres thick), to maintain the flexibility of plastic but ensure body tissue only comes in contact with the titanium. Chemical binding with the silicone prevents detachment of titanium atoms.
The new material has been utilised in hernia surgery, where a mesh implant reinforces defective connective tissues. Such mesh had been made of polypropylene, but since last year, when TiMESH (the first product made of titanised polypropylene) was marketed, 60,000 units have been used in Europe.

One leading expert in this field, Professor Ferdinand Koeckerling, who contributed to the development of TiMESH and who is Senior Physician of the Surgical Clinic and Centre for MIS in the Hanover Clinics, Siloah, pointed out that: 'In modern hernia surgery there are two things we need: as little foreign material as possible and material that is as biocompatible as possible. That is what our patient's demand.'

TiMESH extralight is the lightest mesh implant material on the market, weighing 16g/m2. The body tolerates and incorporates it in an optimal way. European surgeons encouraged GfE Medizintechnik to apply titanisation technology to other plastics, such as silicone.

The world's first titanised breast implant, called TiBREEZE, is textured and filled with a cohesive silicone gel.

Other products made of titanised plastic were also introduced at the Congress: titanised suture material called TiGOOD is biocompatible suture material for skin closure and implant fixation in soft tissues, e.g. in hernia mesh.
The mesh implant TiMESH will also be available in new variants for other surgical applications.'
Production and assets
Titanium molecules are broken down into their atomic components in a reaction chamber. The molecular components of the titanium then spread over the entire surface of the plastic substrate and enter into a pair bond with the plastic molecules. Advantage: The entire surface, even knots and tiny irregularities, wherever an atom finds a niche, is evenly coated with titanium, says the manufacturer. 'This technology works with almost all plastics, e.g. PVC, silicone, as well as metals such as platinum or silver.

The development opens up completely new perspectives in the physiological tolerance of plastic implants, the firm adds. 'Titanised implants also have better wetting qualities (hydrophilic surface) so can adapt perfectly to an anatomical situation.

'The titanium layer is not visible and does not appear on X-rays, but is clearly seen in ultrasonic examinations.

'Many extracorporeal applications are feasible in which the biocompatibility of plastics is the essence, e.g. synthetic parts of heart-lung and dialysis machines or blood bags.