Study
New Norwegian breast cancer research
A new study has suggested that mammography screening of healthy women can help to significantly reduce deaths from breast cancer. Much will now depend on new treatments and more systematic management of patients.

Report: Mark Nicholls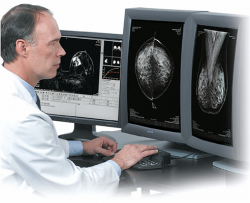 The study used information about women in Norway from 1986-2009 to reach its conclusions and followed all women aged 50-79 years during that period.
Principal investigator Lars Vatten, Professor in Medicine/Epidemiology at the Norwegian University of Science and Technology, Trondheim, said: 'The main finding was that invitation to mammography screening every two years among women 50-69 years of age was associated with 28% reduced risk of dying from breast cancer. The second finding was that 368 women need to be invited to mammography screening to prevent one breast cancer death.'
He explained that a national mammography screening programme was gradually implemented in Norway's 19 counties between 1996-2005 and that gradual implementation by county, and the near random distribution of invitations within the counties, provided a setting similar to a natural experiment, enabling researchers to compare breast cancer mortality among women who were invited to screening and women who were not (yet) invited.
'In the analyses we carefully separated breast cancer deaths that occurred among women diagnosed before invitation – without potential for a screening effect – and deaths that occurred among women who had been invited before diagnosis (with a potential for effect),' Prof. Vatten said.
With the research likely to trigger further debate over mammography and the timing of breast cancer screening for women at average risk of the disease, the professor hopes the findings will further inform that debate and underline the need for exact information about screening patterns (date of invitation, date of diagnosis and date of breast cancer death). 'That's because it is imperative to distinguish between women who could benefit from screening and women who could not benefit,' he added. 'Actually, this corresponds to the elementary distinction between exposed and unexposed individuals in observational studies.'

Benefits and harm
'Benefits are typically indicated in terms of mortality reduction, and our study adds to the evidence that mammography screening reduces the risk of dying from breast cancer,' he said. 'However, screening picks up a certain proportion of breast cancer cases with limited malignant potential, and unnecessary treatment of these cases will be regarded as harmful. The challenge is that the proportion of these latter cases is very difficult to estimate, and that the cases cannot be identified on the individual level.'
While the professor said that the results suggest a clear mortality benefit, he believes health professionals need to realise that there are costs and that an important challenge is to identify women with breast cancer who have a disease that is not likely to be lethal. 'In fact,' he suggested, 'it is extremely important to identify cases with low malignant potential, because these patients should probably receive a different treatment from that which is currently the conventional choice.'
As for the future of mammography, he believes that, with increasing improvement in treatment, gradually more women need to be screened to provide the benefits reported in the study. However, he points out that much depends on new breakthroughs in treatment, and more systematic management of breast cancer patients. The potential impact on clinical practice, of course, depends on the results of future research.
'With increasing breast cancer awareness among potential patients, better organisation of diagnostic work up and improved treatment, the need for screening may be reduced but… just when these requirements are fulfilled is difficult to predict,' concluded Professor Vatten.
PROFILE:
Since 1996, Professor Lars Vatten has chaired the Epidemiology Department at the Norwegian University of Science and Technology, Medical School, Trondheim, where his research interests focus on cancer, perinatal and cardiovascular epidemiology. Initially a family doctor, he became a research fellow at the Norwegian Cancer Society in 1987 before moving to the Norwegian Medical Research Council in 1990 as an epidemiology researcher before taking up his current role. Prof. Vatten has published more than 300 papers, is a member of The Norwegian Royal Academy of Sciences and, in 2010, he received the King Olav V Prize for Cancer Research.