Breath Biopsy platform
Owlstone Medical CEO Billy Boyle wins Royal Academy of Engineering's Silver Medal
Billy Boyle, Founder and CEO of Owlstone Medical, a diagnostics company developing a breathalyzer for disease, is to be awarded the Royal Academy of Engineering's prestigious Silver Medal. The award recognizes engineer Billy's work in spearheading the development of the company's Breath Biopsy platform and driving a vision to save 100,000 lives and $1.5 billion in healthcare costs.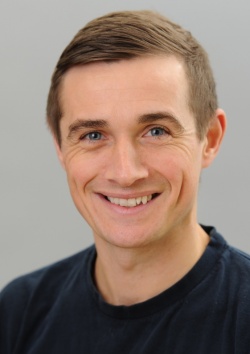 Established in 1994, the Royal Academy of Engineering's Silver Medal acknowledges outstanding and demonstrated personal contribution to British engineering which has resulted in successful market exploitation. Billy's pioneering work will be recognized this week when he receives the Royal Academy of Engineering's prestigious Silver Medal on Thursday June 29 at the Academy Awards dinner in London.
Initially developed for military applications, the Owlstone technology is a miniature chemical sensor on a silicon chip, based on a technique called Field Asymmetric Ion Mobility Spectrometry (FAIMS). Spun out of Cambridge University in 2004, Owlstone Inc. grew into a profitable business, winning >$25 million in defense contracts, and providing FAIMS technology for a range of military and industrial applications globally. The last year has been transformational for Owlstone Medical; having spun out from its parent company Owlstone Inc. in March 2016, the company has raised $23.5 million, including investment from Aviva Ventures, the venture capital arm of global insurance firm Aviva, validating the importance of the technology for the future development of healthcare. As CEO, Billy leads a team of 88 scientists and engineers based on the Cambridge Science Park.
Owlstone Medical is running breath based trials for early detection of lung and colorectal cancer, two of the most common cancers killers worldwide. Half the population will get cancer at some point in their lives but early detection can dramatically improve survival rates. If detected early over half of lung cancer patients and 93% of colon cancer patients can be cured with treatments that exist today. Working with clinical and pharmaceutical partners, Billy has demonstrated the diagnostic power of FAIMS across a range of infectious and inflammatory diseases as well as different types of cancer. In 2015 he led a project that resulted in the LuCID trial, a 3,000 patient study looking to develop a cancer breathalyzer for early stage lung cancer detection, supported by a £1.1 million NHS contract.
Owlstone Medical's Breath Biopsy platform is highly sensitive and selective, and has the potential to revolutionize early detection and precision medicine where treatment can be tailored to the individual patient. With the world's largest breath-based clinical trials, Billy and his team are pioneering the field of breath biomarkers, demonstrating how they can get the right treatment, to the right patient, at the right time, ultimately reducing treatment costs and saving lives. Billy Boyle says: "Every time you breathe out there are thousands of chemicals on your breath; some are telltale markers of disease, which our Breath Biopsy platform is able to detect. Our vision is to change the way we currently diagnose and monitor serious disease; we aim to be become the global leader in the non-invasive early detection and precision medicine for cancer, infectious disease and inflammatory disease."
Professor Chris Toumazou FREng, Regius Professor at Imperial College London, says: "This work is so pioneering that it was recently labeled as the next 'Unicorn' coming out of the global tech industry. Billy Boyle is an absolute entrepreneur, pioneer and inventor and through his own personal endeavors has encouraged major research in the field of cancer. Billy Boyle is one of the UK's unrecognized stars. He has focused for years on deploying his technology, very successfully, in major hospitals and working with many companies and institutions. His amazing technology will save millions of lives in the next decade."
Source: Owlstone Medical