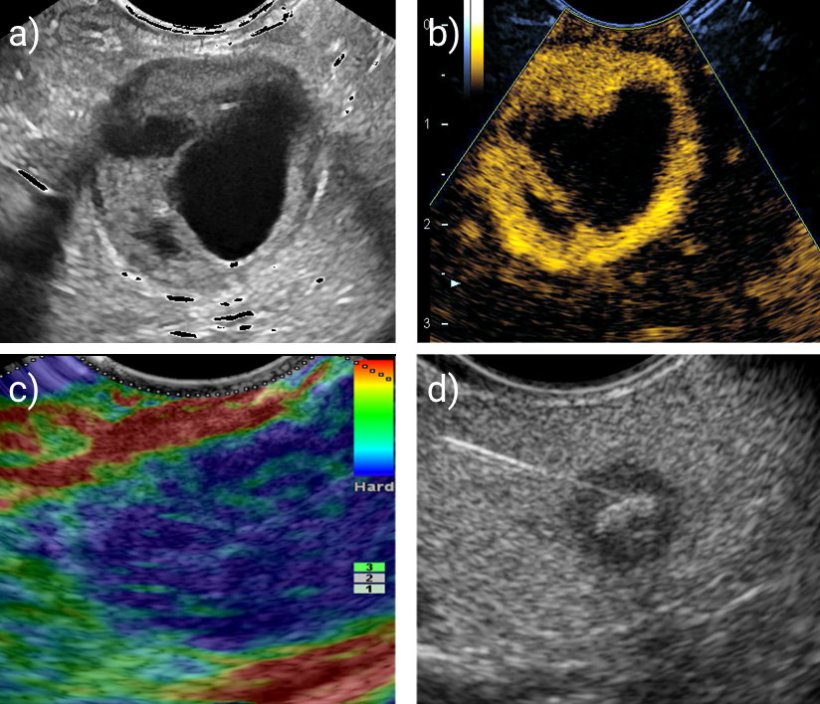 Image source: Prof. Dietrich
Article • Visceral imaging
Endosonography: AI takes on the "supreme discipline"
Endosonography poses unique challenges for medical professionals, because two demanding disciplines have to be mastered at the same time. The use of artificial intelligence (AI) could help speed up the notoriously slow learning curve of the procedure, says Prof Dr Christoph F. Dietrich. At the Visceral Medicine Congress in Hamburg, the expert explained how AI can help endosonography achieve faster and better diagnoses, standardisation of images and better verifiability of findings – and which hurdles still stand in the way of introducing the technology into clinical practice.
Report: Wolfgang Behrends
'In a way, endosonography is the supreme discipline, as it combines endoscopy and ultrasound at the highest level,' says the head physician of the Department of General Internal Medicine at the Hirslanden Beau-Site, Salem and Permanence hospitals in Bern, Switzerland. 'The procedure is not easy to learn, because many parameters are not standardised and the assessment criteria for some diseases – especially concerning the pancreas – are difficult. Artificial intelligence could help to set standardised sections and establish quality parameters for presentability and assessability.'
One example is decision support for diffuse abnormalities in pancreas imaging: Here, early forms of fibrosis with inflammation can indicate degenerative processes in the sense of chronic pancreatitis. However, these changes are hardly visible to the naked eye. AI could provide valuable additional information to identify and classify such findings at an early stage.
A watchful eye on elasticity and perfusion
Greater vascularisation usually indicates an inflammatory or benign neoplastic process, as these are associated with dilated or additional vessels

Christoph F. Dietrich
Other potential areas of application concern elastography, where the AI registers unusual stiffness in the tissue and specifically points out these suspicious areas to the physician. An analysis of vascularity and perfusion behaviour in contrast-enhanced sonography could also benefit from algorithms, Dietrich explains – and gives some examples: 'A lower accumulation of the contrast agent in the pancreatic parenchyma might point towards a ductal adenocarcinoma, as this usually has only one third of the normal vessel density. On the other hand, greater vascularisation usually indicates an inflammatory or benign neoplastic process, as these are associated with dilated or additional vessels.' Incidentally, the elastography indicators do not only apply to the pancreas, but can in principle be used for all organs, from the thyroid to the mamma and the liver, the expert adds. Soft tissue serves as an exclusion marker of pancreatic carcinoma.
AI could also be a valuable aid for inexperienced diagnosticians: for example, an automatic assessment of the setting parameters could ensure that the ultrasound signal achieves sufficient penetration depth and improved validity. AI-supported segmentation of anatomical structures could serve as a navigation aid and specifically point out structures that deviate from the norm.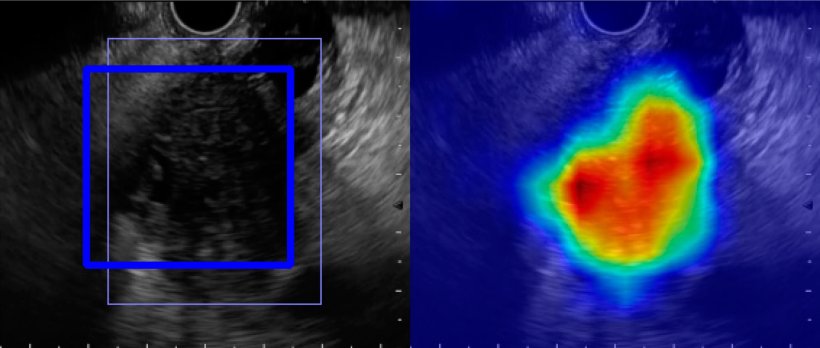 Image source: Tonozuka et al., Diagnostics 2021 (CC BY 4.0)
Overcoming reservations
Currently, these applications are still in the experimental and research stages. However, Prof Dietrich is confident that in the future, medical practitioners will be able to benefit from the assistance provided by AI: 'Currently, we are still at the very beginning. Still, it is important to look at the possibilities of the technology at this point, to approach the methods of independent learning, pattern recognition and what added value they can have for our patients.' This process will likely be subject to reservations, the expert predicts; especially seasoned physicians who have been using endosonography with conventional methods for many years tend to be sceptical about AI assistants.
In order to put the discussion about the pros and cons of the new technology on a solid foundation, Dietrich is currently working together with a group of 25 experts on a "position paper" of the World Federation for Ultrasound in Medicine and Biology (WFUMB) – a document intended to guide the handling of the new technology in an orderly manner: 'On the one hand, it is a matter of overcoming limits with the help of AI and being open to the new possibilities. On the other hand, it is important to consider the ethical and legal aspects that arise from the use of this technology, especially in terms of data security. In short, we need to know the game this game is played by.'