Image source: Adobe Stock/peterschreiber.media
News • Fluorescence-guided surgery
Leading bone cancer scientists aim to improve surgical techniques
New research led by Newcastle will bring together scientists from across the globe to accelerate fluorescence-guided surgery for bone cancer patients.
Dr Kenneth Rankin, Consultant Orthopaedic Oncologist and Honorary Senior Lecturer at Newcastle University, will unite with fellow specialists from the UK, Netherlands, Japan, Canada, and USA to drive forward new technologies for the surgical treatment of bone tumours. An upcoming clinical trial, led by Dr Rankin and funded by the Bone Cancer Research Trust, will examine the effectiveness of a particular dye, called indocyanine green or ICG, which can be given to patients before surgery and leads to the tumour fluorescing green.
The trial will recruit 500 patients to test whether the use of ICG in fluorescence-guided surgery can help to identify the tumour, aid in complete removal, and reduce the amount of healthy tissue removed. A group of expert researchers have agreed that fluorescence-guided surgery could lead to significant patient benefit in terms of reducing local recurrences and the effects of surgery. However, collaborative research is needed in this area and by combining efforts and pooling expertise, the researchers aim to speed up the introduction of such technologies to patient care.
Recommended article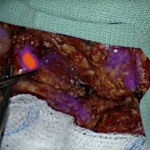 News • Intraoperative molecular imaging
Surgeons at Penn Medicine are using a fluorescent dye that makes cancerous cells glow in hopes of identifying suspicious lymph nodes during head and neck cancer procedures. Because the tumors glow, surgeons get real-time guidance to help them take out as much cancer as possible and leave non-diseased tissue alone.
Dr Rankin, who also works at Newcastle Hospitals Trust, said: "We are excited to highlight that technology for cancer surgery is progressing at a rapid pace. With this funding from the Bone Cancer Research Trust, we will be working with surgeons, pathologists, and scientists from around the world to test new techniques to help us improve cancer operations for our bone sarcoma patients. This will ultimately also have impact in the longer-term for patients with different cancer types."
Fluorescence-guided surgery is an innovative technique which uses the emission of light to identify a tumour's precise location and boundaries during surgical removal. It improves a surgeon's ability to successfully remove the entire tumour, which can be identified as a glowing area of tissue, decreasing the likelihood of any cancer cells remaining while limiting the removal of healthy tissue.
As well as enduring gruelling treatment with chemotherapy and radiotherapy, primary bone cancer patients often undergo major life-changing surgery that leaves them with significant long-term pain and disability.
The consortium will bring together researchers from around the world who are working to improve the surgical removal of tumours by limiting the impact of surgery on patients' functional ability and quality of life.
Advancements in this area would also allow for more effective surgery to be carried out in future clinical trials. Dr Zoe Davison, Head of Research, Support and Information at the Bone Cancer Research Trust, said: "We are delighted to provide this expert team with our first ever Consortia Grant. This award supports a formal collaboration that unites researchers with shared expertise who are working towards a common goal. By providing support for the research community, it is our hope that we can introduce innovative technologies to the clinic that will help improve outcomes and quality of life for patients."
Source: Newcastle University