Article • Coronavirus in radiology
Why we need a global view of COVID-19
There are major complications from COVID-19 – ARDS, pulmonary embolism and neurological – that imaging can help detect, manage and/or follow up in the long term, radiologists from France and the UK explained during a recent ESR Connect session.
Report: Mélisande Rouger
Acute respiratory distress syndrome (ARDS)
ARDS is the most dreaded complication and the number one morbidity in COVID-19 patients. The incidence was up to 30% of patients in initial reports. In Strasbourg University Hospital, at epidemic peak, there was an 8% rate of admission to ICU directly after ED admission because of ARDS, according to Mickaël Ohana, a local professor of radiology who specialises in non-invasive cardiovascular and chest imaging. ARDS diagnosis is not based solely on imaging, but, in line with Berlin criteria, is based on acute hypoxemia plus bilateral radiographic opacities, through chest X-ray or chest CT. 'The problem is not diagnosis – it is prediction and follow-up,' Ohana said.

Prediction
Few papers have tried to score the risk of ARDS from an initial chest CT of a COVID-19 patient, based on either quantitative or visual assessment. But these types of semi-quantitative scores are not highly reproducible, not standardised, and are time-consuming. 'I would advise simply using the ESR/ESTI visual scale, which is based on the extension of the lesions over the lung parenchyma, and then classifying in five different levels. This is a very simple visual quantification, which can be done readily for any patient. We found that, in about the first 200 patients, if you have less than 25% lung involvement, the risk of going to ICU or dying is about 18%. If you have more than 25%, the risk is much higher,' Ohana said.
Based on experience with other types of ARDS, we think that less than three months is probably too early for follow-up CT for patients leaving the ICU

Mickaël Ohana
The risk of fibrosis is also a central concern in these patients. Clinicians know from other types of ARDS – not related to COVID-19 – that 50-75% of patients after ARDS are at risk of fibrosis, with varying severity, whether with radiological lesions or clinical lesions. 'If you have fibrosis on imaging, and even if it is subclinical, it is a risk marker for mortality. The question that remains is regarding the risk of fibrosis in COVID-19 survivors, after ARDS. We currently do not know this risk because we have not had enough time after the initial ICU stay,' he explained.
There are different potential evolutions, from ground-glass opacities (GGO) to crazy paving to consolidation. The questions radiologists must ask themselves are: How can they screen these patients to see which are leading to recovery and which are leading to fibrosis? And when should they follow up with these patients? 'Based on experience with other types of ARDS, we think that less than three months is probably too early for follow-up CT for patients leaving the ICU. And when doing the follow-up scan, we try to optimise the acquisition protocol so as not to have over-radiation,' he concluded.
Pulmonary embolism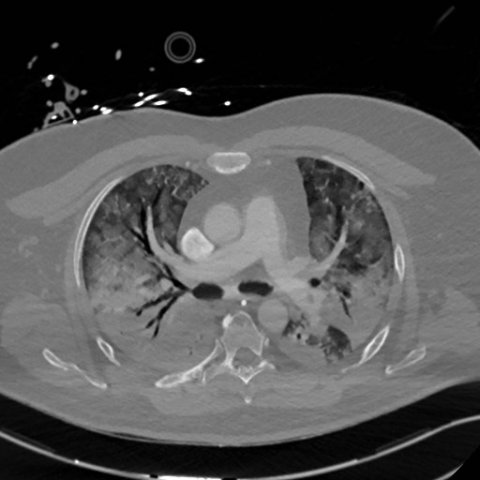 An early paper, from Italy, on pulmonary embolism and COVID-19 questioned whether there was a random association between the two. Clinicians now know from a wealth of evidence that it is not random, and there is a strong association between pulmonary embolism, indeed all thrombotic phenomena, and COVID-19, according to Anand Devaraj, a professor of thoracic imaging at Imperial College London's National Heart and Lung Institute. 'A number of publications have shown that the rate of pulmonary embolism in patients undergoing CTPA admitted with COVID-19 is around 30%,' he said. 'There is also evidence to suggest that this is not just a question of pulmonary embolism, but of hypercoagulation in COVID-19 pneumonia.'
The parameters that suggest this phenomenon include, for example, very high D-dimer levels in patients with COVID-19. 'The pulmonary emboli that we see in COVID-19 pneumonia are often segmental or subsegmental. But a significant minority of patients also have quite severe clot burden, more proximally. Some patients also have very elevated right heart pressures and right heart dysfunction.'
The precise treatment and prevention of pulmonary embolism in these patients is a complex decision for clinicians based on a number of factors, taking into account hypercoagulability and the risks of haemorrhage. But there are reports of thrombolysis being effective in patients with large clot burdens and very high D-dimers, according to Devaraj. 'In terms of parenchymal signs, there have been a number of reports describing the observation of dilated subsegmental vessels in patients with COVID-19 – known as vascular thickening, or vascular congestion – seen in up to 89% of patients. We have also seen this in our patients with severe respiratory failure due to COVID-19.' These dilated subsegmental vessels are peripheral and branching, mimicking tree-in-bud nodularity, but very much centred on the vessel. The aetiology of these opacities is uncertain, but they could reflect thrombotic microangiopathy,' Devaraj noted.
Some recent autopsy data has also pointed towards thrombi within the peripheral vasculature being present as a common phenomenon. The thrombotic hypercoagulable state that radiologists see on imaging in COVID-19 is not just pulmonary embolism; there are also reports of increased rates of ischaemic stroke, myocardial infarction, and aortic and cardiac thrombus, Devaraj explained.
Neurological complications
Anosmia is becoming a very specific symptom of COVID-19, especially when reported without nasal obstruction or rhinorrhea

Myriam Edjlali-Goujon
COVID-19 can also be responsible for neurological complications, according to Myriam Edjlali-Goujon, a neuroradiologist at Hôpital Raymond-Poincaré, Paris-Saclay University. 'There are two physio-pathological mechanisms suggested to explain these complications. The first is using the spread from mechanoreceptors in the lung via a synapse-connected route to the medullary cardiorespiratory centre; the second is entering the brain primarily via the olfactory bulb,' she said.
This second hypothesis has been validated on other types of SARS-CoV virus and was published more than ten years ago. The hypothesis is sustained by clinical symptoms, such as anosmia, which is present in more than 80% of patients with mild-to-moderate forms of COVID-19. 'Anosmia is becoming a very specific symptom of COVID-19, especially when reported without nasal obstruction or rhinorrhea. It is also sustained by imaging publications showing abnormal T2 signals of olfactory bulbs,' she explained.
One of the first articles on brain lesions, from March 2020, described acute haemorrhagic necrotising encephalopathy, a well-known post-viral complication, especially of the influenza A virus, in which radiologists see T2/FLAIR hyper intensity within bilateral thalami and temporal lobes, evidence of haemorrhage and enhancing lesions on post-gadolinium sequences.
Cytokine storms
'Acute haemorrhagic necrotising encephalopathy has therefore been related to intracranial cytokine storms. This is interesting because cytokine storm syndrome has been recently reported in COVID-19 patients and may play a role in the development of those types of encephalopathy,' Edjlali-Goujon noted. Another example of the polymorphism of the different secondary diseases related to COVID-19 is the aspect of the cytotoxic lesion of the corpus callosum (CLOCC) in a COVID-19-positive patient. There is a presence of an ovoid region of the splenium of the corpus callosum with increased T2/FLAIR signal, high DWI diffusion, with restricted ADC values and reduced T1 signal on post-gadolinium injection. CLOCC lesions are known to be secondary to an underlying evolving cause and the corpus callosum is very sensitive to markedly increased levels of cytokines. 'Both acute haemorrhagic necrotising encephalopathy and CLOCC therefore suggest specific complications related to maladaptive cytokine profile,' she explained.
Recommended article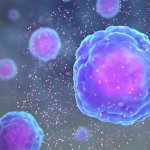 News • Deadly mechanism uncovered
Leading immunologists in Japan are proposing a possible molecular mechanism that causes massive release of proinflammatory cytokines, or a cytokine storm, leading to the acute respiratory distress syndrome (ARDS) in COVID-19 patients. Their suggestions, published in the journal Immunity, are based on recent findings that explain how SARS-CoV-2 enters human cells.
Different retrospective studies have been published reporting the prevalence of neurological complications. One from Strasbourg and another from Wuhan show that neurological manifestations may occur in 40-70% of hospitalised COVID-19 patients. In terms of neurological signs, agitation was very frequent; and in terms of brain MRI, leptomeningeal enhancements, perfusion abnormalities and cerebral ischaemic stroke have been noticed. 'Most frequently, when a lumbar puncture was done, the RT-PCR for SARS-CoV-2 in CSF was negative. Meanwhile, new reports of rarer complications are emerging, such as Guillain-Barré syndrome, Myelitis, Miller-Fisher syndrome and encephalitis,' she added.
Besides, a study published in the New England Journal of Medicine showed an association between COVID-19 and increased incidence of stroke, because of pro-inflammatory and prothrombotic disease, with emergent large vessel occlusion detected as an early stage or even presenting symptom. However, the studies show that the number of stroke patients decreased within the COVID-19 pandemic, Edjlali-Goujon pointed out. 'In France, there is a 21% decrease of mechanical thrombectomy during the quarantine. But this could be questioned too, because of the significant increase in care delays,' she said.
Anosmia and other abnormalities of the olfactory bulb are usually linked to mild-to-moderate symptoms, often isolated, without other neurological deficits and most often without any other abnormalities on MRI. Apart from anosmia, there are more severe complications, such as maladaptive cytokine profile, leptomeningitis and encephalitis, and hypoxic and thromboembolic lesions. In the second phase of the disease, inflammatory lesions can appear and radiologists have to watch for these very carefully. 'There is a need for a global view on the disease,' Edjlali-Goujon concluded, 'and an epidemiological follow-up; and it is important for the physiopathological hypothesis to be validated on post-mortem studies.'
Profiles:
Mickaël Ohana is a professor of radiology at the University of Strasbourg and radiologist at Strasbourg University Hospital in France. He specialises in non-invasive cardiovascular and chest imaging.
Anand Devaraj is Professor of Practice in Thoracic Imaging at Imperial College London's National Heart and Lung Institute and a consultant thoracic radiologist at the Royal Brompton Hospital in London, UK.
Myriam Edjlali-Goujon is a neuroradiologist at Hôpital Raymond-Poincaré, Paris-Saclay University, France.