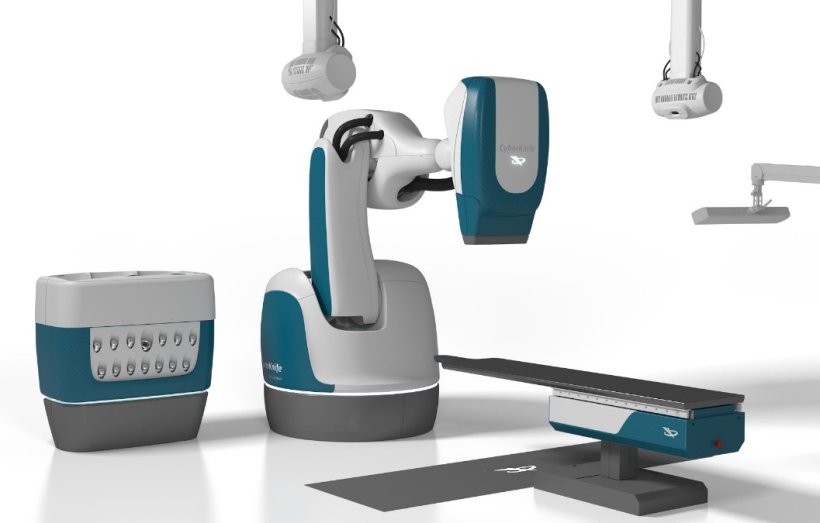 Image source: GenesisCare
News • Accelerator installation
Radiosurgery: Andalusian centre to use robotic, AI-guided Cyberknife
GenesisCare, the world's largest provider of radiation oncology for cancer care, has announced the establishment of the new Accuray CyberKnife S7 model, a novel robotic accelerator that delivers radiosurgery treatment guided by artificial intelligence and synchronized with real-time imaging.
Patients at the GenesisCare Center in Malaga will have access to the new CyberKnife model. It will be able to deliver non-invasive treatments to tumours and benign lesions anywhere in the body, including in the central and peripheral nervous system, primary tumours of the lung, prostate, liver, pancreas, brain and body metastases. This is especially relevant for patients with highly complex or inoperable tumours located close to the brain or spinal cord, the centre points out.
The CyberKnife will be launched as part of the Andalusian Radiosurgery Centre of Excellence at GenesisCare Malaga. Dr. Miguel Angel Arraez will collaborate with other leading neurosurgeons and neuro-oncologists to bring this service to patients across Andalucia. Dr. Arraez is Chief of the Neurosurgery Service at Hospital Regional Universitario Carlos Haya in Malaga and Associate Professor of Neurosurgery at the University of Malaga. He is also First Vice President of the World Federation of Neurosurgical Societies and future President of the World Academy of Neurosurgery. With nearly 40 years of professional practice, international experience in Europe and the USA, he is a highly regarded specialist in the treatment of tumours of the nervous system. Dr. Arraez: "I am really excited to join GenesisCare and lead this project and innovative platform, as well as being able to work with Dr. Jose Begara at GenesisCare and a number of my neurosurgeon peers with a national and international approach to improved patient outcomes. This has been a long-term vision of mine shared with GenesisCare. It is both exciting and rewarding to see it being developed and with now only months to commencement."
This project continues to build on our purpose to provide the best possible life outcomes for patients

Brendan Capell
Under the guidance of Dr. Arraez, the project is expected to commence in November 2022. It will include a multidisciplinary approach and global committee composed of other leading neurosurgeons, to drive the analysis of cases, exchange of ideas and experiences, as well as the application of best practices. The global committee includes international specialists from GenesisCare, which has an extensive network of neurosurgeons and radiation oncologists across the United States, Australia and England. The center of GenesisCare Malaga will become Spain's leading radiosurgery reference centre to treat patients from across Andalucia and Northern Africa, as well as international residents living in Andalusia, while also becoming an educational and training centre of excellence.
GenesisCare's General Manager in Spain, Brendan Capell, said: "Following the recent announcement of our commitment to establish the first MRLinac in our La Milagrosa Madrid clinic, this project continues to build on our purpose to provide the best possible life outcomes for patients. We're proud to have recruited highly regarded doctors to bring these innovative treatments to patients, as part of our strategy to be the clinical leaders in and across Spain for oncology and radiosurgery treatments. "I am excited to welcome Dr Miguel Angel Arraez to GenesisCare Spain and our global community of key opinion leaders. He will be both an asset to our team and patients in the Andalusian community and visitors."
Dr. Jose Begara, radiation oncologist and Coordinator of the GenesisCare Malaga Center, also expressed his enthusiasm for this project and partnering with Dr. Arraez: "The incorporation of this exciting technology and of Dr. Miguel Angel Arraez with whom I already have a longstanding professional collaboration will mark a new era in neuro-oncology in Andalucia and Spain. The CyberKnife S7 will make it possible to offer a better overall patient experience and improved patient outcomes, thanks to shorter treatment times, reduced side effects and the benefit and scale of an international committee of experts that will evaluate cases on a personalized basis."
This will be the second CyberKnife within GenesisCare Spain, building on an established service in Madrid which ensures access to this technology across the most highly populated areas of Spain.
Source: GenesisCare