Nosocomial infections I
Microbes vs. viruses
In European acute care hospitals, on any given day, an estimated 80,000 patients – roughly six percent of all patients – receive antimicrobial treatment to fight a healthcare associated infection (HAI), according to the European Centre for Disease Prevention and Control (ECDC).

Report: Walter Depner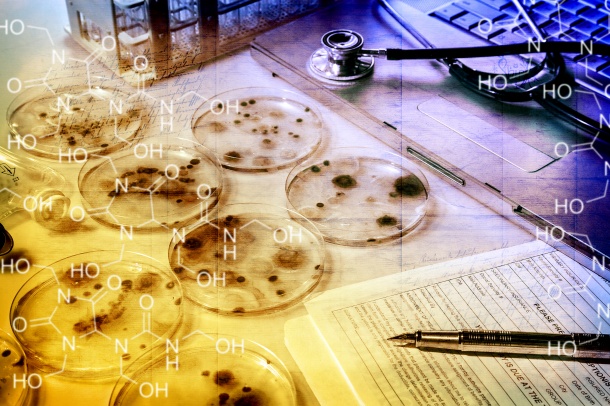 3.2 million victims a year Between 2011 and 2012, the ECDC surveyed 1,000 hospitals with more than 231,000 patients from all EU Member States, plus Norway and Iceland. The results indicate that approximately 3.2 million patients acquire a nosocomial infection every year in the EU. The highest infection rates are reported in Portugal (11%), Greece and Spain (9% each). Germany, with its infection rate of 5%, ranks slightly below the EU average. In the United Kingdom the infection rate is almost 9% (England 8.2%, Wales 6.4%, Scotland 9.5% and Northern Ireland 5.4%). In France there are no reliable recent data, but experts discuss a prevalence of 3- 6%. The same is true for Austria, where the percentages are considered to be roughly the same as in Germany.
According to the study, in Europe around 50,000 patients die from HAI every year – a figure, the ECDC underlines, which has to be used with caution due to differences in reporting procedures and incomparable or incomplete data. As in many comparisons and surveys of this kind the number of unreported cases might be considerable.
As far as Germany is concerned, the ECDC study estimates 400,000 to 600,000 new HAI cases per year and 15,000 deaths. However, during the German Congress for Hospital Hygiene in Berlin in March 2014, the German Society for Hospital Hygiene said it considers the ECDC figures to be 'doctored': According to the Society's estimates, in 2012 up to 900,000 people acquired HAI and up to 40,000 patients died from a nosocomial infection.
Last, but not the least, in the USA data (most likely from 2006, the exact time frame of the survey is unclear) roughly 1.7 million HAIs were estimated (infection rate of 5.9%) to have caused or contributed to almost 100,000 deaths. More recent data indicate that infection rates are stable. In the meantime, the ECDC has developed a unified European protocol for so-called point prevalence studies (PPS) and urged all European countries as of 2011/2012 to conduct national PPS on HAI and antimicrobial use. (Bemke, M. et al, Deutsche Ärzteblatt 110 (38) September. 2013)
Ebola in West Africa
Another important issue has been making headline for about a year: Ebola, above all spreading in West African countries – Sierra Leone, Liberia and Guinea. The figures are frightening – more than 8,200 people have died and about 25,000 people are infected with the Ebola virus. The number of unreported or undetected Ebola-caused deaths is most likely even more significant than the number of unreported or undetected HAI-caused deaths in Europe.
Fortunately there are worldwide initiatives, research and support projects, fund raising campaigns, emergency hospitals and volunteers to help contain the pandemic. In March 2015 a large-scale vaccination campaign was launched with more than 10,000 participants. While the campaign's success is impossible to predict, it will raise many questions – particularly if successful: How quickly can pharmaceutical companies produce and distribute the vaccine? How can an uninterrupted cold chain be ensured during transport and storage? How can the necessary infrastructure be established? These are enormous challenges with uncertain results.
In Germany, the Robert Koch Institute (RKI) and other healthcare groups drafted 'Recommendations and Information' and established STAKOB, a network of competence and treatment centres in charge of infection control and of clinical Ebola management, which provide trained staff, specialised diagnostic equipment and dedicated wards. While there are no reliable figures on the financial and other resources being used in Europe and across the world for Ebola research, treatment, aid, infrastructure, etc. we are no doubt talking about billions of euros – and no one knows whether these funds are sufficient, insufficient or too much, or whether they are being invested in useful or superfluous projects.
HAI numbers differ widely
By no means do I want to create the impression that I am supporting a pro/con microbes or viruses – or vice versa – stance. Quite the contrary: I do want to underline the need to fight microbes and viruses with the same sense of urgency. Rather than comparing or offsetting 50,000 deaths in Europe with 8,200, or whatever number of deaths in Africa, we must treat both issues urgently, efficiently and intelligently.
Having said that, I do think we need to ask troubling questions, such as why, in Europe with its more or less comparable healthcare standards, does the prevalence of nosocomial infections differs so widely – at between 5-11%.