Medically sound for benefit of athletes worldwide
Compact ultrasound technology provides greater diagnostic confidence within close proximity of athletes. The portable equipment from GE Healthcare is not much larger than a laptop, and delivers comparable results in terms of display quality to the high-end equipment used in hospitals.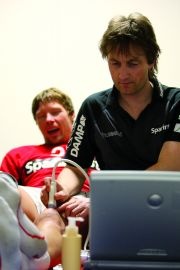 The 2008 Soccer European Cup has provided evidence aplenty that modern soccer nowadays demands tremendous skill from players and sporting ambition, as well as a lot of tactics, speed, video analyses, statistical evaluations and medical improvements. In sports medicine, high-performance medical equipment such as imaging diagnostic or monitoring systems are playing an increasingly important role. A new generation of high-quality compact ultrasound systems now provides greater diagnostic confidence within close proximity of the athletes.
"With some sport-related injuries, a clinical examination during the acute phase is often not enough to make a definitive diagnosis," explains Professor Hauke Mommsen, sports physician and lecturer at the University of Applied Sciences in Kiel. "In the case of a muscle injuries, the high frequency of training means that it is often difficult to distinguish whether the injury is a sprain, calcification, spasm or myogelosis. An ultrasound scan with a compact ultrasound system such as GE Healthcare's LOGIQ e can provide the clarity required in such cases."
The portable, high-performance equipment from GE Healthcare is not much larger than a laptop, and delivers comparable results in terms of display quality to the high-end equipment used in major hospitals.
"When working with compact technologies I'd never seen images with this degree of clarity before. For instance for muscle injuries, they've got the same informative quality as MRI scans", says Professor Mommsen, who has worked for over a decade in the German handball league and is now the team physician for SG Flensburg-Handewitt. "A compact ultrasound system is an essential element in high-performance sports nowadays, including World Championships and the Olympic Games. People who cut costs in this area will pay dearly elsewhere. It fits in perfectly with the on-site examinations program carried out by the doctor and can provide crucial information within close proximity of the athletes allowing us to make well informed and very quick decisions."
High-performance athletes demand a lot from their bodies. Stresses, strains and sports-related injuries are a day-to-day occurrence. All the more important then is medical support that can help prevent injuries and monitor the athletes professionally.
"The work of a sports physician has completely changed in the last decade", reports Professor Mommsen. "The athletes are constantly performing at their very best. We, as the medical support team, need to adapt our working patterns to these cycles too. In many areas of sport, the "Klinsmann" effect has also made its presence felt. In this context, inter-disciplinary experts such as sports physicians, sports psychologists, sports scientists and nutritional consultants work together to ensure consistent performance optimization. Whether it be in soccer, handball or athletics: Personalized muscle function training isn't just essential for top sporting performance; rather, it also offers protection from potential injuries."
GE Healthcare technologies available at the Beijing 2008 Olympic Games
"In the last five to ten years, we have been able to make a valuable contribution to the diagnosis of sports injuries with our systems and technologies," explains Rudolf Beyenburg, company spokesman for GE Healthcare. "We develop medical technology that helps athletes achieve optimum sporting performances and also safeguard their physical and psychological wellbeing."
During the Beijing 2008 Olympic Games and located at the Olympic Village General Hospital, GE Healthcare will provide two of its latest Signa HDe 1.5T magnetic resonance systems, in addition to electro-cardiograms and also, five ultrasound systems. These technologies will be available to over 10,500 athletes from over 200 countries.
Early detection and prevention are the core themes of GE Healthcare's vision of the future – Early Health Medicine. "With our imaging and cardiology monitoring systems, we are keen to make a contribution towards preventing sports-related injuries and conditions, and spotting them in good time so that serious injuries can be avoided," adds Rudolf Beyenburg. "To protect people from the risk of sudden cardiac death, for example, portable long-term ECG devices from GE are equipped with software that analyses and evaluates the risk of sudden cardiac death." Part of this initiative, however, also involves the provision of state-of-the-art imaging systems such as computers and MRI scanners, as well as ECG systems for sports medicine studies.
This article is adapted by the original press release.
Photo: GE
More on the subject:
More on companies: