Sponsored • Deep Learning in Radiology
New Levels of Precision with Self-learning Imaging Software
The complex form of machine learning DLIR (Deep Learning Image Reconstruction) is based on a deep neuronal network which is similar to the human brain. The artificial neurons of this network learn according to their biological model through intensive training.
For the DLIR image reconstruction, the network is fed with sample data from phantom images on the one hand and high-resolution images of the patients on the other hand which are processed autonomously on multiple levels and is thereby constantly evolving. In this way, the image quality improves with every image. GE's DLIR technology TrueFidelity removes the noise that occurs in low-dose imaging almost entirely without losing any image information. The result: a sharp, clearly distinguishable texture and a visual impression comparable to high-dose acquisition and FBP reconstruction. An example of the successful use of TrueFidelity is the emergency room of the Jena University Hospital.
The results of the CT images are much clearer than before, so that we can make diagnoses earlier and initiate necessary therapies immediately," explains Dr. Ioannis Diamantis, Senior Physician at the Institute of Diagnostic and Interventional Radiology. "We no longer have to discuss artifacts or blurred images, for example in aortic analysis or lumen measurement of a thrombus."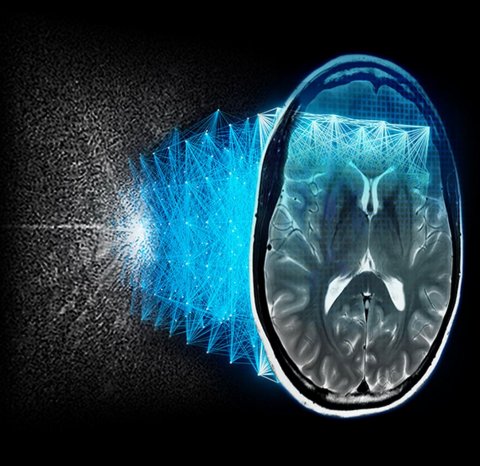 GE Healthcare also focuses on deep learning in MRI imaging. The deep-learning-based reconstruction algorithm AIR Recon DL takes image quality to a new level and generates TrueFidelity MRI images. The radiologist no longer has to choose between short scan times, high resolution and high SNR, but can achieve everything equally in one scan. AIR Recon DL identifies the actual MR signal and distinguishes it from image noise and artifacts. Only the actual MR signal is used to reconstruct the image data – this takes place in the raw data room and the images appear on the scanner console in real time. The image quality is hereby improved fundamentally and has been approved for every anatomy. With the help of artificial intelligence, AIR Recon DL produces sharper, clearer, and clinically usable images in shorter scanning times.
SmartSubscription – A CT That Keeps Getting Better.
"This is an application of artificial intelligence that is specifically designed for the benefit of the patient. It is a little bit like turning a Swatch into a Rolex". Dr. Hugues Brat, Medical Director Groupe 3R.
With SmartSubscription, GE Healthcare provides interested users of its CT systems with a proverbial subscription to the future": As part of GE's AI-based Edision platfom, SmartSubscription gives customers access to the latest technical developments and keeps the CT systems up-to-date with the latest technology throughout the entire agreed term. Depending on clinical requirements, the customer can choose between various innovation packages such as Neuro, Oncology, Cardio, Image Quality or Reconstruction Technology. This allows a flexible adaptation to clinical needs. In the MR sector, GE Healthcare's SIGNA Lift ensures quick and cost-efficient new life cycles for MRI systems. Magnetic resonance tomographs can be upgraded to a new generation of systems without having to replace the built-in magnet.
"The update of our SIGNA MRI represents a major step forward and a very positive influence on image quality and measurement times", says Dr. med. Hans-Timm Grabow, allee-radiologie, Remscheid.

Imaging Insights – The Intelligent Platform for Analysis and Optimization of System Capacity
"The data-supported analyses help us to obtain deeper insights from our data and make business decisions for improved efficiency and patient care," says Dr. med. Christopher Ahlers, Radiology Specialist and managing partner at radiomed, Wiesbaden.
Imaging Insights supplies comprehensive, utilizable insights into various modalities (MR, CT, X-ray, ultrasound, etc.) from different providers by combining data from the devices and the Radiology Information System (RIS). With the help of these "improved" data, the workflow of radiological departments can be optimized, performance can be increased and subsequently, well-funded decisions can be made.
AIR Technology: Leading-edge Coil Technology
"This is the future: one coil for everything, even for issues that were previously difficult to solve such as thighs, angiography of the entire arm or spine in lateral position… I cannot think of anything that is not possible," says Dr. med. Arnd Gerhards, Institut Dr. von Essen, Koblenz, who has been using the technology since 2019.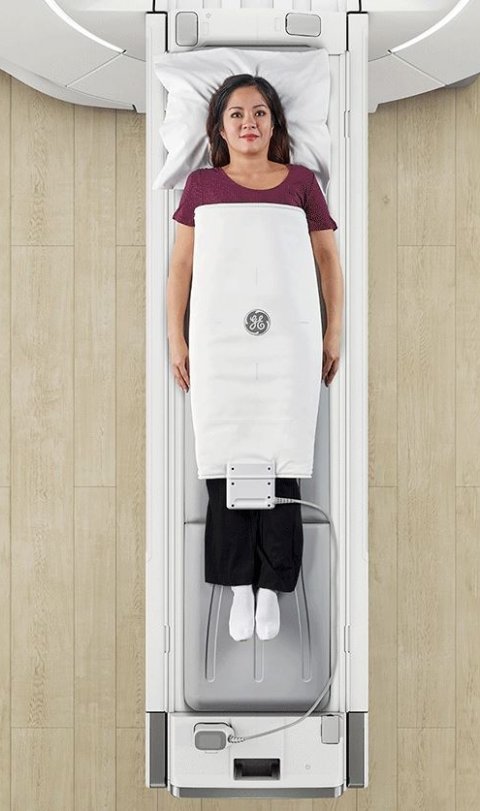 The use of conventional, rigid coils in MRI technology has been regarded as a limitation for both handling and patient comfort for a long time now. With the development of advanced AIR technology, GE Healthcare combines patient comfort, image quality and simple operation. Unlike conventional coils, AIR coils rely on the novel coil conductor material (INC loop). Compared to the previous conventional coils, they are more than 60% lighter at only 45g per channel and they are extremely flexible yet robust. The appearance of the AIR coils is similar to that of a blanket and their unique flexibility allows them to adapt to the anatomy of the respective patient perfectly. The high- quality standard of AIR technology is thus combined with a completely new and far more pleasant examination environment. The new material is not only significantly lighter than before, but the technology also represents a combination of high element density for a high penetration depth. The result is uncompromisingly brilliant image quality and a new standard in MRI technology. However, the low weight is not only a relief for patients, but also for radiologists and radiographers. A further benefit is the time saved since there is no need to choose between different coils or to calibrate them, and they can be quickly and easily stored.
LOGIQ E10 Series: Confident Diagnoses for Different Patient Types
With the LOGIQ E10 series, doctors can examine and treat a large number of patients with a wide range of symptoms and clinical pictures. With modern tools and an optimized ergonomic system, the systems are setting a new standard in sonographic imaging. The LOGIQ E10 captures and reconstructs data in a similar way to a CT or MRI. Its transducers deliver high-resolution images with high fidelity and high bandwidth – regardless if the examined area is near-surface, deep or intermediate. Thanks to its versatility and scalability, the LOGIQ E10 series can be used in a wide range of clinical applications and patient groups.
More on the subject:
More on companies: