Article • Infection control
Local antibiotics improve results
Hip and knee joint surgeries are among the most common procedures in orthopaedics and trauma surgery and complications can occur. Rare, but serious, among these is periprosthetic joint infection (PJI), which causes high costs in healthcare and stress for patients.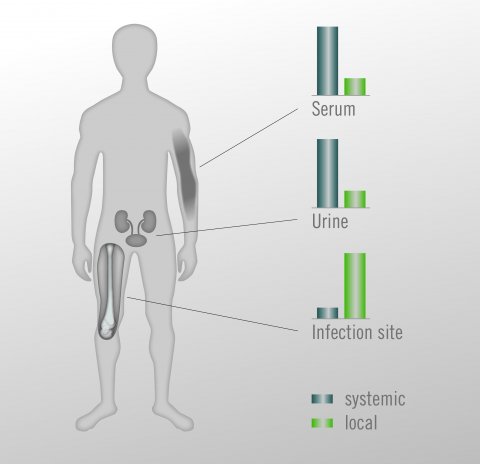 Antibiotic prophylaxis using antibiotic-loaded bone cement
Polymethylmethacrylate (PMMA) bone cement, which is primarily used to fix prosthetic implants, can support effective infection management in primary arthroplasty, revision and the treatment of periprosthetic infections. The local release of the antibiotic from the bone cement supplements standard systemic antibiotic prophylaxis. The advantage lies in the considerably higher local concentration of the antibiotics with a low systemic load. Choosing the right treatment algorithm is a critical factor for successful prevention and reduction of PJI. Combinations of antibiotics – systemic and local – are advantageous for effective infection management for revisions, in trauma cases after femoral neck fracture and occasionally in primary arthroplasty. When choosing the antibiotic, the current resistance situation and prevalence of microorganisms responsible for PJI should be considered. The Copal bone cements Copal G+C and Copal G+V, for instance, contain combinations of antibiotics (gentamicin and clindamycin and gentamicin and vancomycin respectively) that tackle most of the microorganisms responsible for PJI. Synergistic effects of the combinations of antibiotics enable a high local antibiotic concentration in situ.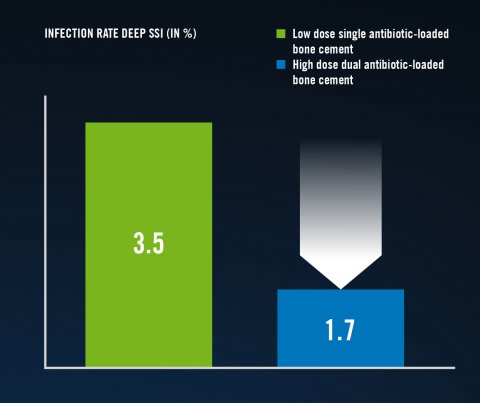 In revision, the range of treatments includes one-stage replacement with good soft tissue conditions and known susceptible pathogens, as well as two-stage replacement with precarious soft tissue conditions and unknown resistant pathogens. In both cases the effectiveness of the treatment can be increased by using bone cement with combinations of antibiotics. The combination of antibiotics used should be determined after completing diagnostics and an antibiogram. For revisions due to verified resistant microorganisms (MRSA/MRSE), the use of Copal G+V is recommended. This contains the antibiotic gentamicin combined with vancomycin which, as a reserve antibiotic, is an option for use with known bacterial resistance to MRSA/MRSE, for example. For septic loosening or chronic infections, a spacer made of antibiotic-loaded bone cement is often inserted as a temporary joint replacement to eliminate infection. Articulating spacers with an implant-like design, e.g. from Copal knee moulds, should be given preference here to preserve the joint function and to prevent the formation of contractures and scar tissue.
Risk of deep infections can be considerably reduced
In primary arthroplasty patients, who are particularly at a high risk of infection, are recommended for combinations of antibiotics for antibiotic prophylaxis, and thus the use of Copal G+C bone cement. The risk factors that can increase the likelihood of infections include diabetes, osteoporosis, limited mobility, excess weight and dementia.When treating femoral neck fractures with a cemented hemiarthroplasty using Copal G+C, it can be verifiably demonstrated that the risk of deep infections (surgical site infections, SSI) can be considerably reduced by using dual antibiotic-loaded bone cement.