ESTI 2016 cancelled due to security fears
Citing concerns over attendee safety, the European Society of Thoracic Imaging (ESTI) has cancelled its 2016 annual scientific meeting which had been scheduled for May 25 to 28 in Istanbul.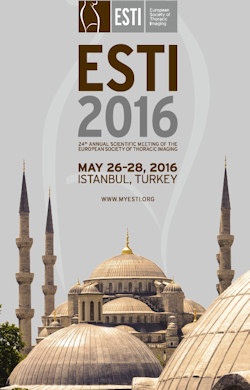 Here the public announcement of ESTI President, Prof. Nevzat Karabulut:
Based on the recent very unfortunate incident in Istanbul, Turkey, the Executive Board of ESTI and myself had to reconsider our Annual Scientific Meeting 2016, planned to be held in Istanbul.
It was decided to not organise the upcoming ESTI 2016 Annual Scientific Meeting (May 26-28, 2016), as well as the ESTI 2016 Workshop (May 25, 2016), in Istanbul, Turkey, this year and to postpone this event. This decision was in no way easy and has been taken with deep regrets.
The safety and security of all congress delegates, attendees, invited persons and industry partners is of utmost importance, which is why we look forward to your understanding.
Success in previous years proves the importance of and interest in thoracic imaging and the society is very much looking forward for welcoming everybody in the near future again to our important and successful scientific events.
Source: ESTI 2016