Breakthrough in hepatitis C research
Earlier this year a drug was launched that can cure hepatitis C without severe side effects in most patients. Whilst the treatment is fast, it is very expensive but does avoid liver cancer and thus makes liver transplants superfluous. This is only one of the many promising developments in hepatitis research that Dr Markus Cornberg of the Medical University Hanover will address at the Medica Education Conference.
Report: Brigitte Dinkloh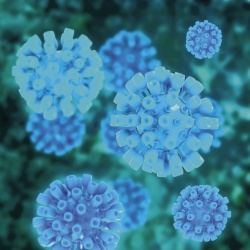 'Hepatitis C is a chronic infectious disease caused by a virus which was identified in 1989,' says Markus Cornberg, adding: 'Until recently the treatment consisted of a combination of interferon and ribavirin, two unspecific drugs of which we even to date don't know why they work.' However, only about 30 percent of the infected patients received the medication, the expert points out, since 'in patients hepatitis with advanced liver disease or other severe sequelae we could not use it due to the adverse effects.
However, now we have antiviral substances such as protease inhibitors, polymerase inhibitors and NS5A inhibitors which for the first time provide a targeted and effective hepatitis C treatment.'
Expensive therapy
The new drug can cure hepatitis C in more than 90 percent of patients with a course of treatment taking at most six months. 'The major advantage of these drugs is the fact that they have few side effects,' Cornberg explains. The drawback: They come with a price tag of up to 100,000 euros per course. 'The drug development costs have to be recovered but the price will drop,' Cornberg says but underlines that life-long therapies for other diseases are equally expensive.
In January 2014 sofosbuvir was introduced, simprevir followed suit in May and in August the third new drug, daclatasvir, was approved. In November, Gilead is expected to present an oral hepatitis medication that combines two of the agents and, for January 2015, AbbVie announced a triple combination.
In his presentation Dr Cornberg will also cover other forms of hepatitis, such as A and E. Both are prevalent in tropical countries, nevertheless Dr Cornberg explains that,hepatitis E pathogens can occur in Europe '...for example in food such as uncooked meat, ground pork sausage or wild boar meat.'
Compromised immune systems are at risk
Approximately twenty percent of the German population are estimated to have been exposed to the hepatitis E virus, Cornberg says, but mostly with genotype 3, a rather benign variant, while in the tropical countries genotype 1 is common: 'In very rare cases we have patients with jaundice, albeit today we know that transplant patients or immunocompromised patients are particularly at risk.' They can develop chronic hepatitis, where the virus remains in the body and causes inflammations. 'Ever since we've understood this we detect the hepatitis E virus much more often. Before, we simply didn't look for it,' Cornberg explains.
In Germany, estimates mention up to one million carriers of hepatitis B and C with the major transmission vector for hepatitis B being sexual intercourse. Also in that coun, pregnant women are routinely tested for the virus to prevent a transmission from mother to the child. Most hepatitis B carriers do not show symptoms, 'the virus sleeps in the body and can break out at any time,' according to Dr Cornberg.
Heads up, physicians!
Immunosuppressant drugs such as rituximab are used to treat rheumatism, lymphoma or multiple sclerosis. But, Cornberg warns, the physicians should exercise prudence since these drugs weaken the antibodies, which in turn can activate the hepatitis B virus. The disease can be extremely severe, even fatal, Cornberg says and emphasises that physicians must be arware of this. Even in healthy patients who carry hepatitis B markers, rituximab can reactivate these markers. Then, a conventional hepatitis B treatment must be initiated. 'Unfortunately it does happen that patients are not properly tested before receiving medication,' he says, 'and then the liver function tests skyrocket and before it occurs to you that your patient might have hepatitis B, he's almost dead.'
PROFILE:
Dr Markus Cornberg is managing senior physician at the Center of Internal medicine as well as senior physician at the Clinic of Gastroenterology, Hepatology and Endocrinology at the Medical University Hanover. His clinical work focuses on the treatment of patients with liver disease. He was lead physician in several clinical studies, which looked at new drugs for hepatic viral infections. In 2007 and 2010 he served on the organisational committee, which drafted the S3 guidelines for hepatitis B management. His basic research focuses on the role of cellular immune responses with regard to the course of disease and the treatments response of patients with viral hepatitis.