Article • Antimicrobial Resistance Action Fund
AMR research gains $1 billion funding
A unique, ground-breaking global campaign, which has seen major pharmaceutical companies unite to fight antibiotic resistant infections, has been launched with a one-billion-dollar investment fund.
Report: Mark Nicholls
The Antimicrobial Resistance (AMR) Action Fund – unveiled in Berlin and Washington in July – with a further launch in Tokyo, aims to help save the collapsing antibiotic pipeline and make 2-4 new antibiotics available within a decade. More than 20 biopharmaceutical companies have joined with philanthropies, development banks, and multilateral organisations to strengthen and accelerate antibiotic development to address the rapid rise of antibiotic-resistant infections (i.e. antimicrobial resistance).
Recommended article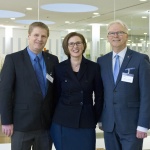 Article • Medication development
Partners who could hardly be further apart – yet have a lot in common – have united to fight resistant pathogens. The International Consortium for Anti-Infective Research (iCAIR) is based in Germany and Australia – separated by nearly 16,000 km as the crow flies. This has not stopped the research cooperation from achieving its objectives: the development of new agents against infections.
The ongoing COVID-19 crisis has so far killed more than 500,000 people worldwide, yet AMR is believed to kill 700,000 annually. There are fears that deaths could reach 10 million a year by 2050. The AMR Action Fund, an initiative of the international body representing the R&D pharmaceutical industry, the IFPMA (International Federation of Pharmaceutical Manufacturers & Associations), will provide financial resources and technical support to help biotech companies bring novel antibiotics to patients. Nearly US$1 billion has already been raised to support clinical research.
Currently, there is no viable market for new antibiotics and thus, in recent years, a number of antibiotic-focused biotechs have left this field. There are few novel antibiotics in the pipeline. The AMR Action Fund intends to invest in smaller biotech companies focused on developing innovative antibacterial treatments; provide technical support to portfolio companies, giving them access to the expertise and resources of large biopharmaceutical companies, to strengthen antibiotic development, and support access and appropriate use of antibiotics; and bring together a broad alliance of industry and non-industry stakeholders.
The concept of the AMR Action Fund was developed by the IFPMA and the Biopharmaceutical CEOs Roundtable (BCR), and biopharmaceutical companies and foundation, in collaboration with the World Health Organisation (WHO), The European Investment Bank (EIB), and the Wellcome Trust. The Fund is supported by bio-pharmaceutical companies and foundations such as Almirall, Amgen, Bayer, Boehringer Ingelheim, Chugai, Daiichi-Sankyo, Eisai, Eli Lilly and Company, GlaxoSmithKline, Johnson & Johnson, LEO Pharma, Lundbeck, Menarini, Merck, MSD, Novartis, Novo Nordisk, Novo Nordisk Foundation, Pfizer, Roche, Shionogi, Takeda, Teva, and UCB.
Joining the launch were several CEOs from those companies, along with Dame Sally Davies, UK Special Envoy on AMR; Dr Tedros Adhanom Ghebreyesus, Director General of the WHO; Werner Hoyer, President European Investment Bank; Jeremy Farrar, Director Wellcome Trust; and Stella Kyriakides, European Commissioner for Health and Food Safety. Government ministers included Jens Spahn, Federal Minister of Health, Germany; Magnus Heunicke, Minister of Health and Senior Citizens, Denmark; and Agnès Pannier-Runacher, Secretary of State for Economy and Finance, France. 'The spread of drug resistant infections can no longer be effectively treated by existing antibiotics,' stressed Farrar, as Ghebreyesus described AMR as a 'slow tsunami that threatens to undo a century of medical progress'.
Describing AMR as a global challenge, Spahn drew attention to the German Antibiotics Resistance Strategy 2020, which aims to make decisive advances in research and development in the field. 'AMR is not only predictable, but also preventable,' Kyriakides added. With the aim to make the EU a best practice region and a global leader on tackling AMR, she said: 'Tackling AMR is everyone's responsibility and should be everyone's priority. No state, no region, can do this alone; what we need now is global action.'
Other key speakers included Hubertus von Baumbach, Chairman of the Board of Managing Directors, Boehringer Ingelheim; Stefan Oelrich, CEO Bayer Pharmaceuticals; and Stefan Oschmann, Chairman of the Executive Board and CEO of Merck. Boehringer Ingelheim does not currently conduct antibiotic research, said Baumbach, but his company has invested because it recognises the huge scale of the problem.
The focus of the investment will be on start-up and biotech companies, which see it as a lifeline as there is no money available to fund clinical research

Thomas Cueni
IFPMA Director-General, Thomas Cueni, said that while COVID-19 had dominated the last few months, not so much has been heard of AMR in recent years. 'Unlike COVID-19, AMR is a predictable and preventable crisis,' Oelrich stated. 'We must act together to rebuild the pipeline and ensure that the most promising and innovative antibiotics make it from the lab to patients.'
With no new class of antibiotics since the late 1980s, and the over-use of antibiotics for humans and animals, and the exit from relevant treatments by big pharma companies he warned that the pipeline for new antibiotics looks 'pretty grim'. This is a science as well as economic problem, he pointed out. 'Now there is no viable economic system for development for new antibiotics, the economic model is broken and with a broken economic model the right kind of research and development in antibiotics has not taken place', he explained, but he sees that industry has now 'stepped up' in collaboration with the WHO, EIB and Wellcome Trust to create the $1 billion fund. 'The focus of the investment will be on start-up and biotech companies, which see it as a lifeline as there is no money available to fund clinical research. This is a bridging solution. The AMR Action Fund aims to provide the bridge, and bring 2-4 new antibiotics to the market by 2030. That is a significant historic milestone, with industry stepping up and responding.'