A new POC test transforms non-healing wound care
The world's first point-of-care wound test, unveiled last November at the Wounds UK conference, is now used by the National Health Service (NHS) -- and internationally.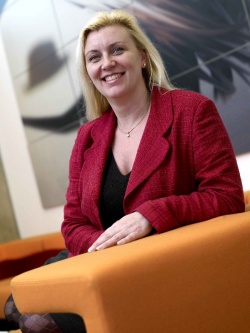 Devised by wound care specialists Systagenix, the Woundchek Protease Status is reported to rapidly identify whether a wound has elevated protease activity (EPA), enabling clinicians to deliver a quicker, more accurate response to patients with long-term wounds. Jacqui Fletcher, a Senior Lecturer at the Wound Healing Research Unit at Cardiff University, Wales, explained that the test was developed with the aim of offering a range of diagnostic tests to target markers, which had been recommended by the 2008 World Union of Wound Healing Societies (WUWHS) consensus document, emphasising the importance of effective assessment and diagnosis in wound care.
Woundchek, she said, is simple and flexible enough for use anywhere and has the potential to save health systems millions of pounds or euros annually due to better medical decision-making among those dealing with a large range of wounds with delayed healing, possibly caused by infection, malignancy, EPA etc. 'To treat these non-healing wounds we have a range of more specialised interventions and dressing products that cost rather more than the normal range of moist wound healing dress ings,' the wound healing specialist explained. Before the new test, she added, trying to work out what the problem was had been 'trial and error based on clinical experience'.
Estimates indicate EPA affects around 28% of non-healing wounds. 'If these can be identified quickly, treatment can be targeted to manage the EPA thus improving the healing rates. Equally, for wounds that don't have EPA, the range of potentially appropriate dressings that should be tried is reduced, giving a better chance of selecting the right one.' Woundchek gives clinicians a clearer idea of what the underlying problem may be, she added. 'Identification of elevated protease activity would direct them to a specific group of dressings, enabling them to have confidence that they are either targeting a treatment appropriately or, as important, not using a more expensive product where it isn't required.'
The procedure
A swab taken from the wound is inserted into a card already primed with four drops of solution. The swab is rotated in the card and the card is then left for five minutes to develop the test. The entire procedure takes about 15 minutes, Jacqui Fletcher confirmed. Before the Systagenix test, no methods to test for EPA were used in routine clinical practice. Now, she said, other POC tests are in development to help identify or exclude other causes for delay or non-healing in chronic wounds.