News • New mobile imaging system
Ultrasound might be the next stethoscope
GE Healthcare has launched a new wireless, pocket-sized ultrasound system called Vscan Air. The device runs in the tradition of GE's Vscan
Family systems, of which the company report over 30,000 to be in use worldwide.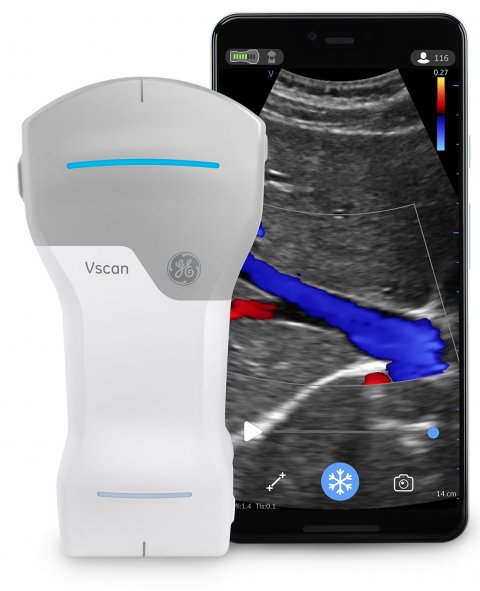 The system is designed to transform the clinical exam by making it easier to acquire high quality ultrasound images. "Many of us are pressed to see patients, to give patients that access to care, so the more time something takes, the less patients I can provide access to in a day," said Dr. Kyle Leonard, Family Medicine clinician at Hudson Headwaters Health Network in upstate New York. "With the portability and ease of use of the Vscan Air, I can bring it with me throughout the day in each exam room and spend more time with my patients."
Today, clinicians worldwide are treating more critically ill patients than ever before with limited staff, time, and resources. Handheld ultrasound has become an essential tool, allowing clinicians to quickly collect images and triage patients while also providing the benefits of portability, cleanability, and workflow efficiency. Several studies show lung ultrasound comparable to both Xray and CT when examining the lungs of Covid-19 patients [Source: Cho et al., Korean Journal of Internal Medicine 2020 and Smith et al., Anaesthesia 2020]. "Time is one of the most valuable resources in this pandemic-challenged world, where so many patients need care. Now, I can carry Vscan Air in my coat pocket, take it out, and start to scan. With this powerful tool in my pocket I can perform a complete examination on my patients and make decisions quickly right at the bedside," said Dr. Yale Tung-Chen, Chief of the Division of Ultrasound in Internal Medicine at Hospital Universitario Puerta de Hierro, Majadahonda in Madrid, Spain and currently working in the Spanish Covid-19 specialized Isabel Zendal Emergency Hospital. "The images you can get of the heart on this handheld device are similar to what you'd get from a fullsized, high-end ultrasound. Vscan Air is a well-designed, powerful tool that's easy to clean and easy to use."
Now more than ever, clinicians need smaller and smarter tools that increase access and efficiency both in and outside of the four walls of the hospital

Anders Wold
The Vscan Air ultrasound system enters the market as one of the smallest and lightweight handheld ultrasound devices with the exceptional image quality and advanced visualization software that Vscan Family users have come to rely on for quick clinical insights.
Additional benefits include:
Whole-body scanning capabilities with crystal clear image quality: complete both shallow and deep exams effortlessly with a simple flip of the two-sided probe design (high frequency linear and convex transducer probe), without switching probes in-between or during clinical exams. Proprietary SignalMax technology allows for crystal clear imaging capability of larger ultrasound machines in the palm of your hand.
Intuitive user interface and probe design: user-tested design includes software presets for fast scanning, single-button probe for easy image capture and freezing, and intuitive setup and scan start-up so users can pair the probe and start scanning immediately.
Securely share data and images: seamlessly share auto-anonymized images with patients post-scan. Patient data remains within your network - not the Cloud. Store and share images securely with the systems' DICOM TLS 1.3 with private client & server certificate support (the most secure method currently available to send patient data over a wireless network for review and storage) without a monthly subscription.
Probe cleanability and durability: military-grade durability standard, withstanding drops, and extreme temperatures, water exposure, and high-level disinfection techniques.
Maximum portability and energy savings: the system adapts signal processing from high-end console systems into a custom miniaturized chipset. The result is an ultracompact device that delivers high-intensity ultrasound signals, enabling high-quality imaging and achieving 77% power reduction compared to off-the-shelf Analog Front End components.
"Now more than ever, clinicians need smaller and smarter tools that increase access and efficiency both in and outside of the four walls of the hospital," said Anders Wold, President and CEO of Global Ultrasound at GE Healthcare. "The Vscan Air exemplifies customer-driven innovation that enables more personalized care for patients worldwide. We pioneered handheld ultrasound when we brought the first pocket-sized ultrasound with color Doppler to market and now we see Vscan Air as delivering on the future of healthcare at a time when ultrasound has proven to be an essential tool at the point of care."
Source: GE Healthcare
More on the subject:
More on companies: