Sponsored • Otitis Media
Ultrasound aids ear infection diagnosis
Although traditionally an imaging modality, ultrasound also has applications as a measurement tool. An innovative application is to assess ear infections.
Otitis Media (OM), a middle ear infection, is the number one indication for antibiotic prescriptions for children and the leading cause for surgery. This problem is global. Nearly every child will suffer at least one middle ear infection severe enough to see a health professional, and most will suffer repeat occurrences – up to a dozen or more in childhood.
Multiple studies (including from the CDC) show diagnostic error rates averaging 50 percent, particularly in the key differentiation of viral from bacterial infection, and whether an antibiotic is appropriate. Thus, patients are often given the wrong treatment and are referred to specialists more often than necessary. The problems from excessive antibiotic use are well known. Additionally, under-diagnosis can result in surgery or permanent hearing loss.
The current tool used to diagnose middle ear infections is the otoscope, which is essentially a magnifying lens, battery, and light source – a virtually unchanged system since its introduction decades ago. With the otoscope, the clinician can only view the tympanic membrane (ear drum). However, accurately characterising the contents of the middle ear, on the other side of the membrane, is key to the accurate diagnosis and treatment of OM.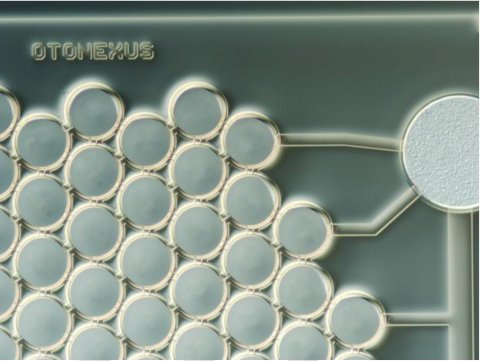 A new device under development at OtoNexus Medical Technologies (Seattle, WA, USA) has the familiar form factor of a traditional otoscope, but uses a novel air-coupled ultrasound technology to provide the data physicians need to instantly and accurately assess middle ear infections, the company reports. 'This allows them to accurately differentiate when and when not to prescribe antibiotics.'
OtoNexus has partnered with Fraunhofer-IPMS (Dresden, Germany) – a global leader in MEMS development and manufacturing – to create a unique transducer, a type of CMUT (capacitive micromachined ultrasound transducer).
'Unlike traditional ultrasound transducers needing gel or water coupling, these new CMUTs are optimised to operate through air in the human ear canal,' the company reports. 'Furthermore, they are manufactured using semiconductor fabrication methods, making them easy to mass produce and far less expensive. Using these novel transducers, along with hardware and algorithmic innovations, OtoNexus will place a high-precision ultrasound device in the hands of paediatricians, designed specifically to their needs and utilising their current workflow.'
OtoNexus is at MEDICA: