The GE Venue 40 series
Miniaturised ultrasound for fast POC settings
GE Healthcare is presenting its new Venue ultrasound product line at Medica. The Venue 40, the first product launched, provides visualisation for needle guidance procedures and rapid diagnostics in real-time at the bedside. These point-of-care (POC) settings are the fastest growing in ultrasound internationally (USA growth: 30% average in the last four years. Source: industry report by Klein Biomedical Consultants)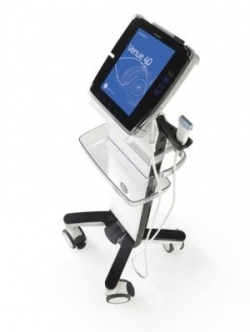 An intuitive touch screen and streamlined design make Venue 40 easy to use and to clean, especially for clinicians who use ultrasound to make immediate care decisions, or guide procedures, GE reports.
The Venue 40 comes in five versions, designed for specific procedures and diagnostic examinations:
• Venue 40 Vascular Access: Allows placement of peripheral or central lines with exceptional visualisation of anatomy and needle at the bedside.
• Venue 40 Anaesthesia: Increases precision and clinical confidence with clear visualisation of both anatomy and needle for performing regional nerve blocks.
• Venue 40 Interventional: Visualises biopsy guidance, line placements and rapid diagnostics at the bedside. Applications include visualising the needle for a breast biopsy or vein ablation, as well as other minimally invasive procedures.
• Venue 40 Musculoskeletal: Helps to provide accurate diagnoses and treatment for the hospital, office or training room. Clinicians could use the device to diagnose, treat and monitor a patient with rheumatoid arthritis. Other applications include diagnosing and treating muscle, tendon and joint problems in sports medicine.
• Venue 40 Point of Care: Enables rapid diagnosis and cardiac assessment in the ICU/CCU, trauma bay or bedside. The device could be used to visualise an ICU patient's heart function and anatomy, or to help identify life-threatening abnormalities or free fluid in a trauma patient in the ER.
Dr Jeff Swenson, Professor of Anaesthesiology at the University of Utah and Director of Anaesthesia at the University of Utah Orthopaedic Centre, Salt Lake City, who believes the Venue 40 is a major advancement, said: 'As we increasingly use ultrasound for imaging, its technology will allow clinicians to image fascial planes and high resolution anatomy more safely.'
Mobile technology: 'Clinicians can execute all functions through an intuitive touch screen. Annotations and measurements can be entered quickly and precisely with a stylus,' GE explains. 'The sleek system is free from buttons, knobs or a keyboard on its touchscreen. Its small size and streamlined cart allows for imaging in some of the smallest of clinical spaces, such as at the bedside or in a trauma bay. The lightweight Venue 40 system can be easily transported from room to room. A clinician can quickly dock the compact ultrasound unit in the cart or table dock, without tools.'
Dr John Bailitz, Emergency Ultrasound Co-Director in the Department of Emergency Medicine at John H. Stroger Jr. Hospital of Cook County and Assistant Professor of Emergency Medicine at Rush University Medical School, Chicago, also added: 'The system's user-friendly interface makes the Venue 40 an outstanding addition to the community emergency department, when purchasing their first bedside ultrasound system, as well as for emergency medicine physicians with variable training in emergency ultrasound.'
Easy image quality: Powered by GE's advanced imaging technology from high-end ultrasound systems, Venue 40 features include:
• Concurrent acquisition technology, which uses an innovative dual beamformer to process twice as many data points for more accurate anatomical depiction.
• Crossbeam and Speckle Reduction Imaging (SRI) for improved tissue definition and reduced noise
• Full-colour 10.4" (26.4 cm) display provides a large image-to-screen proportion for enhanced viewing.
Hygiene: The user interface is a single-surface screen without a monitor frame or seams that could potentially harbour contaminants, GE points out. 'The probe connection is flush with the system, further reducing the places that germs can hide. The durable, fluid-resistant cover can be cleaned with a number of standard medical disinfectants, making the Venue 40 easy to clean between uses.'
Venue joins GE's ultrasound brands LOGIQ for general imaging, Vivid for cardiovascular imaging and Olson for women's health and specialty imaging.
Details: www.venue.gehealthcare.com
GE Healthcare at Medica
Hall 10. Stand A56. Hall 10. Stand B44.

More on the subject:
More on companies: