The digital cath lab imaging system with fully-integrated IVUS
Scott Huennekens, President & CEO of Volcano Corporation
GE Healthcare and Volcano Corporation have combined GE's Innova digital X-ray cath lab system with Volcano's new PC-based IVUS platform.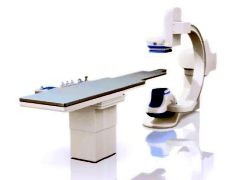 GE Healthcare and Volcano Corporation have combined GE's Innova digital X-ray cath lab
system with Volcano's new PC-based IVUS platform, to provide a clear view of coronary and peripheral vessel morphology. The companies report that the resulting image clarity will help clinicians to determine the extent of cardiovascular disease and to carry out treatments, such as stent placement, by determining lesion and stent lengths.

'GE has sought opportunities to integrate IVUS technology directly into our award-winning, industry-leading Innova systems. Until the development of Volcano's PC-based IVUS product, this leapfrog in technology has not been possible,' said Laura King, Global Vice President and General Manager, of GE's Interventional, Cardiology and Surgery division.

Volcano's newest PC-based IVUS platform reduces the size, weight and noise of the IVUS console, so the unit can be easily attached to a bedside table, in the control room or used in other areas beyond the daily pattern of the cath lab. The integrated user interface is set apart from current stand-alone systems that impose many practical limitations on the regular use of IVUS, Volcano points out.

With more than 1,900 Innova all-digital x-raysystems installed worldwide, GE and Volcano are poised to facilitate greater utilization of IVUS to further guide patient management. The companies point out that, as the clinical relevance of IVUS has increased, particularly with the recent innovations in IVUS based on-line tissue characterization and IVUS/angio-image co-registration, so too has the market need for an integrated, easy-to-use system.

Dr William Wijns MD, Co-Director of the Cardiovascular Centre, in Aalst, Belgium, added: 'When you have a catheterized patient on the table, often in the midst of an acute syndrome, you need your diagnostic and therapeutic tools at the ready – there for quick and simple implementation. Many times it is just not an option to ask the staff to roll in the IVUS, turn it on and wait for it boot up. We have been asking for this advance from the IVUS companies for some time now, and are thrilled that Volcano and GE recognized the need and are investing in developing this product.'

Ralf Birkemeyer MD added: 'IVUS, advanced 3-D angiographic imaging techniques and non-invasive imaging technologies, such as MDCT and MRI, hold the promise of unlocking many important mysteries surrounding the cause and progression of coronary and peripheral artery disease. Only by combining information from several, if not all, of these modalities will we be able to gain a clear understanding of this disease. The integration of IVUS with Angio systems is an important step in making truly integrated imaging feasible and practical for a wide array of physicians.'

GE also intends to work with Volcano to provide'... unparalleled cath lab design, installation and field repair/service of this new system. Current GE cath lab customers can modify existing cath lab rooms with the new integrated IVUS system. Customers will be able to contract with one vendor, GE, for their purchasing, installation and field service needs.'

Prototypes
In EuropPCR, this May, both the GE and Volcano booths demonstrated the prototypes of the new investigational device.
More on the subject:
More on companies: