Taxus produces similar outcomes in men & women
Results of a gender-specific study to assess the efficacy of the Taxus paclitaxel-eluting coronary stent in women undergoing coronary revascularisation were released at the European Society of Cardiology Congress by interventional device developer Boston Scientific.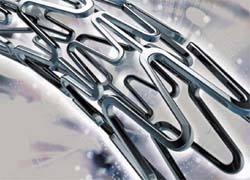 Named Taxus Woman, the study indicates that paclitaxel-eluting stents have similar clinical outcomes in women and men, despite the higher risk profile in female patients.
The researchers analysed pooled results of women enrolled in trials to evaluate the performance of the Taxus stent compared with a bare-metal stent used in control patients with coronary artery disease. The women's results were compared with the corresponding endpoints in men.
According to the Massachusetts-based firm, there were no other significant differences in baseline demographics, and lesion or procedural characteristics between the Taxus and bare-metal stent groups in both genders.