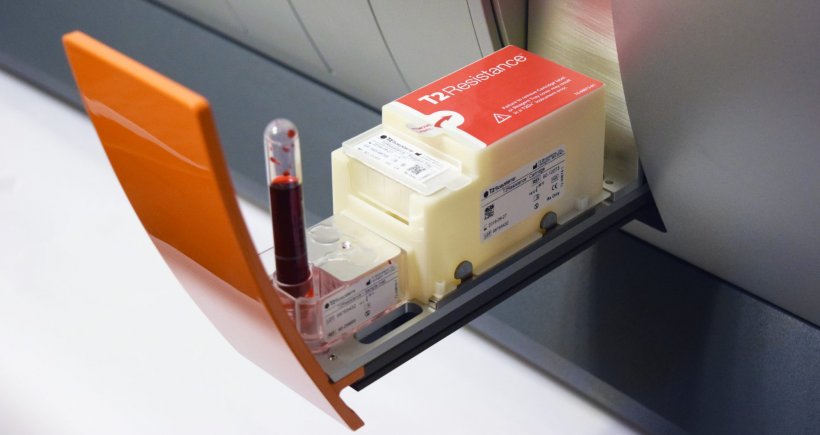 Image source: T2 Biosystems
News • Direct-from-blood diagnostic
T2Resistance Panel receives CE mark
The T2Resistance Panel is the only direct-from-blood diagnostic designed to detect genetic markers associated with antibiotic-resistant bloodstream infections
T2 Biosystems, Inc., a leader in the development and commercialization of medical diagnostic products, and CARB-X, a global non-profit partnership dedicated to accelerating R&D innovation to address the rising global threat of drug-resistant bacteria, announced the granting of a CE mark to the T2Resistance Panel. With the CE mark, T2 Biosystems has met the requirements of the In-Vitro Diagnostics Directive (98/79/EC) and can market the T2Resistance Panel within the European Economic Area (EEA).
The panel, which was developed with support from CARB-X, was the first diagnostic to graduate from CARB-X's portfolio and is now the first CARB-X-powered product to be approved for use in human whole blood specimens from patients. It identifies 13 of the most serious resistance genes on the antibiotic-resistance threat list published by the Centers for Disease Control and Prevention (CDC), including genes indicating resistance to common empiric antibiotic therapies such as carbapenems, vancomycin, penicillin and more. It is the first diagnostic test that can detect all of these resistance markers directly from whole blood—in three to five hours.
Rapid diagnosis of drug-resistant infections is essential to improve appropriate treatment for patients, and to save lives

Kevin Outterson
"Fighting antimicrobial resistance not only requires the development of rapid diagnostics, like the T2Resistance Panel, but also requires access to these innovations so they can make a positive impact on as many patients as possible," said John McDonough, chairman and chief executive officer of T2 Biosystems. "We are grateful that with the invaluable help of CARB-X's funding, patients in Europe can start benefitting clinically from the early detection of antibiotic-resistant bloodstream infections."
To receive CARB-X funding, T2 Biosystems had to demonstrate to an advisory panel consisting of global experts in the antimicrobial resistance (AMR) and diagnostic fields that the innovation had the potential to significantly accelerate and improve the detection and diagnosis of serious drug-resistant bacterial infections, and to contribute to the global fight against drug-resistant bacteria.
"We're proud that we were able to help T2 deliver its technology to market as part of our effort to support the development of rapid diagnostics, antibiotics, vaccines and other products from around the world to address drug-resistant bacteria," said Kevin Outterson, Executive Director of CARB-X, which is based at the Boston University School of Law. "This represents a huge step forward for patients, and a critical milestone for CARB-X. Rapid diagnosis of drug-resistant infections is essential to improve appropriate treatment for patients, and to save lives." CARB-X is a consortium led by Boston University and funded by a global partnership.
Recommended article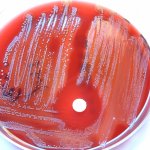 News • Epidemiology & economics
A team of researchers from Versailles Saint-Quentin-en-Yvelines University (UVSQ), Inserm and Pasteur Institute has been able to provide for the first time an accurate estimate of both the incidence (annual number of new cases) and added direct cost of infections due to antibiotic-resistant bacteria in patients hospitalised in French hospitals during 2015 and 2016.
Drug-resistant infections are responsible for an estimated 700,000 deaths worldwide each year, according to the World Health Organization (WHO). Existing diagnostics to detect antibiotic resistance markers primarily rely on blood cultures, which can take days, and do not provide results when patients need them most. As a result, physicians are often unable to treat infections quickly with the appropriate antibiotics, leading to poor patient outcomes, higher mortality, and the overuse of antibiotics empirically.
"Reaching this milestone demonstrates how essential public-private partnerships like CARB-X are in the global fight against antimicrobial resistant infections," said Rick Bright, Ph.D., director of the U.S. Biomedical Advanced Research and Development Authority (BARDA). "In founding CARB-X, we and our partners sought to stimulate a more robust pipeline for the innovative products needed to help save lives from some of the toughest infections ever known. At BARDA, we continue to work with T2 on developing their diagnostic to expand the platform's potential use in rapidly identifying a variety of biodefense-related infections to protect health security."
Source: T2 Biosystems