News • Rapid diagnostics
T2 Biosystems hosts integrated symposium at ECCMID 2019
T2 Biosystems, maker of rapid diagnostic technology to aid in the detection of blood stream infections to prevent sepsis, will host an integrated symposium titled "Rapid Diagnostics Direct from Whole Blood: A Solution for Fast and Appropriate Antimicrobial Therapy," at the European Congress of Clinical Microbiology & Infectious Diseases (ECCMID) in Amsterdam, Monday, April 15, 16:00-18:00 CET.
The symposium will feature leading clinicians and users of T2Direct Diagnostics who will discuss integrating the Company's T2Bacteria and T2Candida Panels in clinical practice, and the product's potential to significantly improve antimicrobial stewardship and infectious disease management in clinical settings. The panels are the first and only FDA-cleared and CE-marked tests that identify the most serious bacterial and fungal pathogens directly from blood sample in just three to five hours, without waiting for a positive blood culture —which can take one to six or more days. These capabilities allow for faster species identification, enabling the potential for faster targeted treatment, de-escalation of empiric therapy and improved patient outcomes.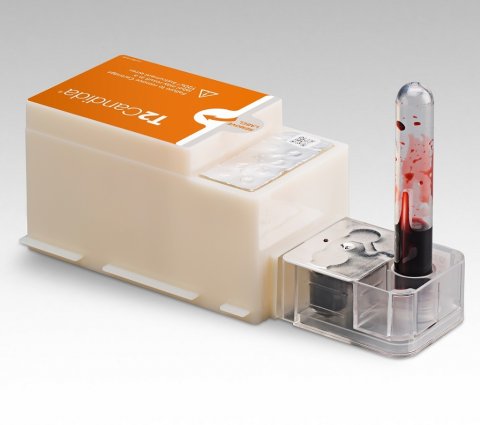 All T2Direct Diagnostics panels are run on the T2Dx Instrument using a patient's blood sample with validated clinical sensitivity of 91 to 96% and specificity of 98 to 99%. The direct from blood capability is enabled by the proprietary T2MR-powered T2Dx Instrument which can detect organisms at concentrations as low as 1 CFU/mL. This represents a thousandfold increase in sensitivity compared to products that detect species from positive blood culture bottles where the number of cells is typically in the range of 10,000 to 10,000,000 CFUs/mL.
T2 Biosystems recently received FDA Breakthrough Designation for the T2Resistance Panel, a diagnostic panel that can detect 13 resistance genes from both gram-positive and gram-negative pathogens from a single patient blood sample in 3 to 5 hours. The T2Resistance Panel is also run on the T2Dx instrument and is expected to be CE-marked and available in Europe by the end of 2019, and offered as a Research Use Only product in the United States before yearend.
T2 Biosystems will showcase its latest innovations at ECCMID at Booth #1.22. To learn more, please visit www.T2Biosystems.com.