Synthetic lethality
Phase 1 trial indicates the successful effects of a novel cancer treatment
Completion of a Phase I clinical trial has demonstrated the great promise of a completely new type of cancer treatment, according to results announced this June in The New England Journal of Medicine by scientists at the Institute of Cancer Research (ICR) and the Royal Marsden Hospital in the United Kingdom, working with pharma firm AstraZeneca.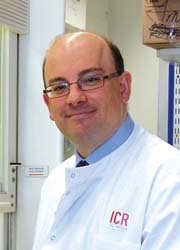 The new drug, named olaparib (a PARP inhibitor) targets cancer cells but leaves healthy cells relatively unscathed. 60 patients with inherited forms of advanced breast, ovarian and prostate cancers – caused by mutations in the BRCA1 and BRCA2 genes – received the drug. However, two patients did not complete the trial and two others had tumours not typically related to BRCA-mutations. Among the remaining 19 BRCA-carrier patients, 12 (63%) showed tumour shrinkage and stabilisation for at least four months. Side-effects were reported to be largely mild; they included nausea, fatigue and vomiting. Some patients reported the treatment was 'much easier than chemotherapy'. One of the first to receive the treatment is still in remission after two years, the researchers reported.
Dr Johann de Bono, one of the ICR scientists who led the AstraZeneca/KuDOS-sponsored Phase I trial, held at The Royal Marsden and the Netherlands Cancer Institute, concluded that the positive results confirmed that the drug should be taken into larger patient trials.
Olaparib is the first successful example of a new type of personalised medicine using 'synthetic lethality', in which the treatment works in combination with a patient's own specific molecular defect. It was based on experiments conducted at the ICR and funded by Cancer Research UK and Breakthrough Breast Cancer showing that some cancers had an Achilles' heel: If drugs such as this are used to block the PARP enzyme in the body, the tumour cells' DNA breaks down and the cells die.
Cancer cells with the BRCA1 or BRCA2 mutations were the first discovered to be sensitive to PARP inhibitors, but there is evidence that olaparib will be effective in other cancers with different defects in the repair of DNA – this could include some non-inherited breast and prostate cancers and up to half of the most common type of ovarian cancer.
'This is a very important drug for the treatment of BRCA1/2-related cancer,' said ICR scientist and joint lead researcher Professor Stan Kaye, who is supported by Cancer Research UK. 'The next step is to test this drug on other more common types of ovarian and breast cancers where we hope it will be just as effective.'
Professor Alan Ashworth, Director of the Breakthrough Breast Cancer Research Centre at the ICR, who developed the approach of targeting defects in DNA repair in cancer, said that the synthetic lethality concept is now being tested in a variety of clinical trials across the world.