News • Science superstar
Stephen Hawking leaves a lasting legacy
Stephen Hawking, a visionary physicist, as well as a pop culture icon, died March 14, 2018 at the age of 76, leaving scientists, doctors, space enthusiasts and "Simpsons" fans alike to reflect on his contributions to modern cosmology and entertainment.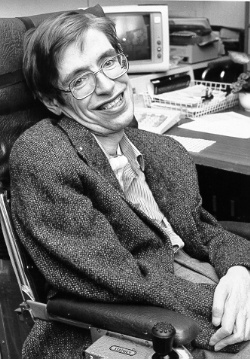 Hande Ozdinler, an associate professor in the department of neurology in Northwestern's Feinberg School of Medicine, reflects on Hawkings impact on the research and public awareness for Amyotrophic lateral sclerosis (ALS). She is also a faculty member in the Les Turner ALS Research and Patient Center, the Cognitive Neurology and Alzheimer's Research Center and the Robert H. Lurie Comprehensive Cancer Research Center.
"As you know, ALS is the disease of the motor neurons in the brain and the spinal cord, and neuronal activity is what keeps neurons alive and functional. Active thinking, conceptualization of complex ideas, and hypothesis-driven analysis of integrated and convoluted theories keeps the brain nourished, active, connected and alive."
Dr. Hawking, even with his death, teaches us a lesson: keeping brain cells active and happy could indeed be a solution for the ALS disease

Hande Ozdinler
"Many of us believe that it is impossible to live with ALS more than five to six years, and yet Dr. Hawking lived with ALS for more than 50 years! In my opinion, Dr. Hawking was able to overcome ALS thanks to his ability to keep his brain neurons alive, connected and active. His brain capacity might have contributed to the slowing of his disease. Dr. Hawking, even with his death, teaches us a lesson: keeping brain cells active and happy could indeed be a solution for the ALS disease."
Source: Northwestern University