Breast Cancer
Scalp cooler prevents hair loss in early stage breast cancer patients
A pioneering scalp cooling treatment that prevents alopecia in early stage breast cancer patients undergoing chemotherapy will be showcased at the 15th St. Gallen International Breast Cancer Conference, Vienna.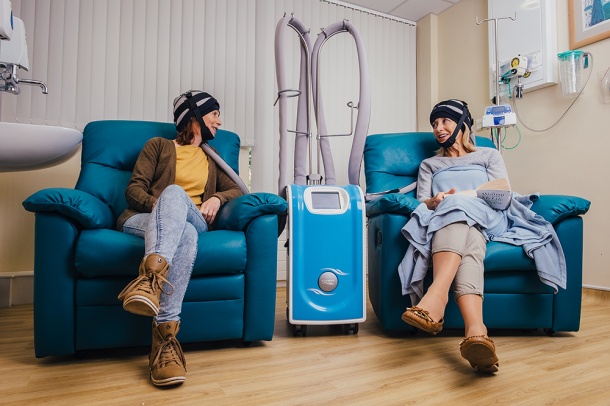 Throughout the four-day exhibition, which runs from 15-18th March, British company Paxman will showcase the Paxman Hair Loss Prevention System, an innovative device that prevents women from losing their hair whilst undergoing chemotherapy.
The device operates using a two-cap system, with the inner silicone cap circulating a refrigerated fluid and the outer neoprene cap insulating the scalp and fitting snugly to the patient's head with a chin strap.
Both caps are fitted once and worn for the duration of each chemotherapy treatment session. The two-cap system ensures the coolant stays at a consistent temperature and is connected to a small machine, which can be briefly detached from the patient to allow for greater mobility during sessions.
Dr Julie Nangia recently used the scalp cooler in her Scalp Cooling Alopecia Prevention trial (SCALP) at Baylor College of Medicine in the United States.
The study highlighted that the scalp cooler is highly effective in hair preservation after the fourth chemotherapy cycle for patients who receive taxane or anthracycline, or both, during chemotherapy for stage I or II breast cancer.
The impressive results of the trial were recently featured in JAMA; a renowned peer-reviewed oncology medical journal published by the American Medical Association.
Dr Nangia said: "Chemotherapy treatment works by attacking rapidly dividing cells, but in doing this, it also targets rapidly-dividing hair cells, 90 percent of which are in the growth stage, resulting in hair loss."
"With scalp cooling, we are lowering the temperature of the scalp, thereby constricting the blood vessels and reducing the flow of blood to the hair follicles, which will help reduce hair loss by limiting the amount of chemo drugs reaching the follicles."
Richard Paxman, CEO at Paxman, said: "We are looking forward to coming to St. Gallen International Breast Cancer Conference to highlight the SCALP clinical trial results. We have had some great clinical results around the world, especially in the US, so it's great to be able to share these results with clinicians at international conferences."
Throughout the conference the Paxman Hair Loss Prevention System device will be located on Stand 3, Level 0 The Austria Centre, Vienna.
For more information please visit: http://paxmanscalpcooling.com
Contact:
Paxman Coolers Limited
International House
Penistone Road
Fenay Bridge
Huddersfield
West Yorkshire
HD8 0LE
Tel: +44(0)1484 349 444
E-Mail: info@paxmanscalpcooling.com
Source: press release Paxman