Russian cancer research team gains international funding
The international research project 'The Definition of new types of tumours containing potential mutations sensitivity to drugs' has begun in Petrov Research Institute of Oncology in St Petersburg, the oldest Russian oncology institute.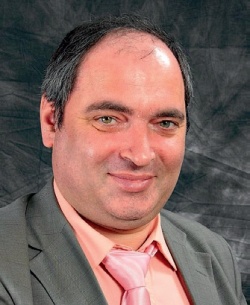 The project, funded by the international biopharmaceutical company AstraZeneca Pharmaceuticals, is Russia's first experience of this kind of cooperation in fundamental science between a pharmaceutical company and a scientific research institute.
The main aim of the project is to search for new 'targets' for effective chemotherapy, under lead researcher Professor Evgenij Imjanitov, Head of the institute's Tumour Growth Biology Department. The biopharmaceutical company has allocated about $500,000 and the Research Institute of Oncology has donated Europe's largest collection of tumours (about 1million samples). Researchers have to choose the most common types of malignant formations (about 28 tumours) and examine them for the presence of gene mutation targets. The diagnostic value of genetic damage in tumours has become obvious to scientists only in this century. The most striking example is the detection of mutations in the epidermal growth factor receptor: tumour cells, which have the mutation, have a unique sensitivity to target drugs.
'Unfortunately,' the professor observes, 'mutations of the gene of epidermal growth factor receptor were so far found only in lung cancer, and systematic studies of other tumours have not been carried out yet. Besides, there are about 60 genes similar in its structure in the group, and they may also get mutations, which are the potential targets for therapy. Finally, researchers should remember that the spectrum of mutations in different countries has regional characteristics: patients are unlike the gene pool, and therefore the search for targets is relevant to each individual country.

PROFILE
Evgeny N Imyanitov heads the Tumour Growth Biology Department at N.N. Petrov Institute of Oncology; the Medical Genetics Department at St Petersburg Paediatric Medical Academy, and Professor at the Oncology Department, Medical Academy for Postgraduate Studies. He graduated from I.P. Pavlov Medical School in 1989, gained his PhD from N.N. Petrov Institute of Oncology in 1992, and the IARC Fellowship for post-doctoral training in the Max Planck Institute of Biochemistry in Munich. In 1996 he established his research group at the St Petersburg institute to focus on translational aspects of cancer science – making a substantial contribution in hereditary cancer syndromes. His team also studies basic aspects of cancer pathogenesis (investigations of molecular features of bilateral breast cancer).