New proton therapy software tool
Proton therapy is very sophisticated way of destroying tumours. Now the Swedish Medical company RaySearch Laboratories has signed a consulting agreement with Uppsala University Hospital in Sweden to develop a treatment-planning system.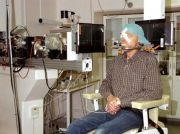 Proton therapy might be the last chance option for patients suffering on tumours which grow deep in the body or are surrounded by very sensitive organs. Protons offer optimised dose distribution within the targeted region. The accelerator speeds up the protons to 60 per cent of light speed and leads the beam precisely to the tumour, where the protons damage the cells and particularly their DNA.

The Svedberg Laboratory (TSL), a proton therapy facility run by the Uppsala University, treats more than 100 cancer patients annually with protons. "To capitalize on the advantages of proton-therapy, which is more precise than conventional radiation therapy, a reliable and accurate dose calculation is of extra importance", said Ulf Isacsson, responsible for radiation therapy at the Hospital Physics department of the University Hospital. "This will be provided by this system from RaySerch."
Proton therapy is one of its priority development areas. Its concept include the optimization of scanned beams calculated with a proprietary Monte Carlo algorithm, a joint development with Nucletron from the Netherlands.

The Swedish hospital was the first in the world to treat cancer tumours with protons. For RaySearch the agreement has no direct financial impact, but it is of high strategic importance "that our proton system will now be used clinically for the first time."