Product of the month
New perspectives for colorectal cancer screening
Innovative endoscopy system improves adenoma detection. Endoscopes are thin flexible tubes with imaging capabilities that doctors use to view the upper and lower GI tracts of their patients. The Fuse system uses three small cameras at the tip of a flexible GI endoscope, as compared with one at the tip of a standard, forward-viewing endoscope. With a wider 330° view, physicians see nearly twice the surface area and anatomy of the colon, including behind and into folds. A recent clinical study found that up to 41% of potentially pre-cancerous polyps hide and go undetected with the limited 170° view of standard, forward-viewing endoscopes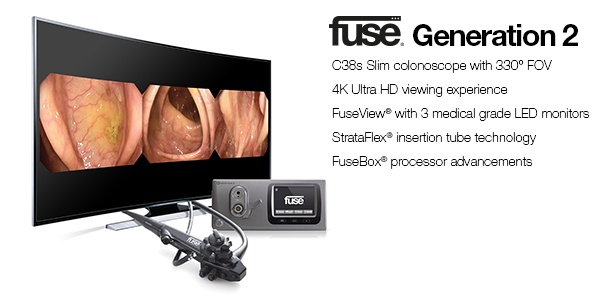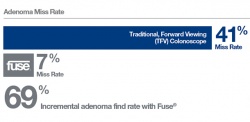 Fuse® Full Spectrum Endoscopy
For many years, colonoscopy has been the gold standard in colorectal cancer screening and diagnosis. Through careful examination with the endoscope, the physician is able to identify and detect precancerous polyps or growths that could be precursors to colorectal cancer.
• Since the late 1980s, there have been no major innovations in flexible endoscopes
• As a result, clinicians are limited by traditional endoscopes and can potentially miss key abnormalities
Fuse is a dramatic leap forward in endoscope technology and empowers physicians to provide a higher level of patient care.
• Fuse is revolutionizing endoscopy by providing a 330° panoramic field of view during colonoscopy and a 245° field of view during upper endoscopy as compared to traditional endoscopes (no more than 170° for colonoscopes or up to 150° for gastroscopes)
• Physicians see 94% more anatomy at a time with Fuse by providing a near panoramic field of view as compared to traditional colonoscopes
• Fuse attracts and retains more patients
Advancing your GI practice
The Fuse endoscope provides to the clinician a panoramic, 330° field of view (1C colonoscope) and 245° (1G gastroscope), nearly twice that of the competing endoscopes, while maintaining all standard features, functions and feel.
A multi-center 185-patient tandem study reported in the Lancet Oncology* showed compelling results. 88 patients were randomly assigned to receive traditional forward-viewing colonoscopy first, and 97 to receive full-spectrum colonoscopy first.
By per-lesion analysis, the adenoma miss rate was significantly lower in patients in the full-spectrum endoscopy group than in those in the traditional forward-viewing colonoscopy group.
The latest advancement in the Fuse Full Spectrum Endoscopy portfolio is the innovative C38s, the world's first endoscope with wide angle of view, slim profile, and large 3.8mm working channel. EndoChoice is the only company in the world to provide this combination of features.
* Gralnek et al. The Lancet Oncology, 2014
About EndoChoice
EndoChoice is a medtech company focused on the R&D, manufacturing and commercialization of platform technologies including endoscopic imaging, devices and infection control for specialists treating a wide range of gastrointestinal (GI) diseases.
• Founded in 2008
• Headquarters near Atlanta, Georgia, USA
• International headquarters in the Hamburg, Germany area handling international sales, marketing, customer service, scope service and the worldwide manufacturing of Fuse® endoscopes
• Active in more than 25 countries, with more than 2,500 customers in the U.S. alone
EndoChoice has rapidly developed a proprietary product portfolio, which includes the revolutionary Full Spectrum Endoscopy System (Fuse®). The Fuse system is comprised of colonoscopes and gastroscopes with multiple imagers so doctors can see more of the GI tract for diagnosis and treatment.
To learn more, visit www.endochoice.com/Fuse