News • Neuroscience
"Neuropixels" neural probe to map brain activity
Imec, the world-leading research and innovation hub in nanoelectronics and digital technologies, released and is making available its state-of-the-art high-density neural probe, Neuropixels, to the global neuroscience research community.
With almost a thousand electrodes, and 384 recording channels on a single shank, the Neuropixels probe provides an unprecedented resolution for mapping brain activity. The probes are designed and fabricated on imec's advanced silicon platform. Five years ago, in June 2013, the Howard Hughes Medical Institute's (HHMI) Janelia Research Campus initiated an international project with imec, the Wellcome Trust, the Gatsby Charitable Foundation and the Allen Institute for Brain Science to develop a next generation tool for electrophysiology. The result of this collaboration was the Neuropixels probes, which were designed, developed and fabricated by imec in collaboration with HHMI Janelia Research Campus, Allen Institute for Brain Science, and University College of London. The performance of the Neuropixels probes and their potential for transformational neuroscience experiments was described in a November 9, 2017 paper published in Nature.
I hope this is the beginning of a journey of bringing together like minded funders of Neuroscience Research Tools

Barun Dutta
Starting October 31, 2018, imec is making the Neuropixels probes available to the global Neuroscience research community. "The Neuropixels probe is the most advanced neural electrophysiology probe to date, thanks to the power of integration of advanced CMOS chip technology. I sincerely hope that the Neuropixels probe will revolutionize the way neuroscience research is performed and propel our understanding of complex brain processes and diseases forward. In addition, I hope this is the beginning of a journey of bringing together like minded funders of Neuroscience Research Tools and imec, such that there is continuous funding to provide path breaking tools to the Neuroscience community at a regular cadence leveraging the strength of Moore's Law" said Barun Dutta, chief scientist at imec, who has led the imec Neuropixels program since inception.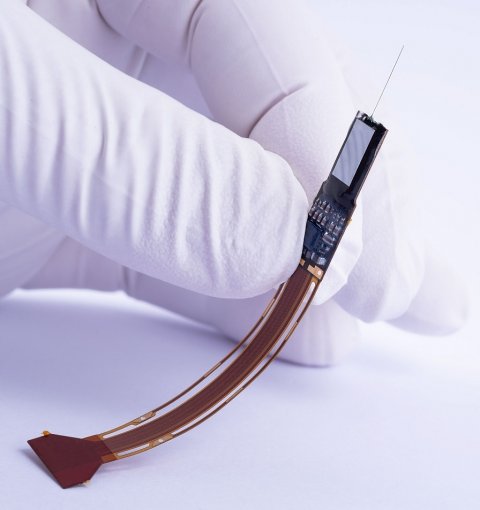 Tim Harris, senior fellow of HHMI: "Neuropixels was made possible by the generosity of our funders, HHMI Janelia, Allen, Gatsby and Wellcome, the world class engineering design and fabrication at imec, and the tireless work of the consortium to agree and test a single design. We hope this can be a technology development example for other life science research tools. In the race between optical and electric methods of record large-scale cellular activity, imec's Neuropixels just delivered the next great leap forward – reliably recording spikes from hundreds of neurons simultaneously with sub-millisecond resolution in a small, convenient and inexpensive package," said Christof Koch, Ph.D., president and chief scientist at the Allen Institute for Brain Science.
"Systems neuroscience is undergoing a seismic revolution in which we are getting access to technical devices which will enable us to record from hundreds and thousands of neurons at the same time in behaving animals. Most of us believe that the important computations of the brain such as those involved in cognition, emotions, decisions, and actions are carried out by networks of neurons and that we will only begin to understand how the brain works when we can record the activity of substantial parts of these networks. The Neuropixels probe is a giant step in this direction and will enable us to probe these circuits with a temporal resolution that has not been possible previously. We salute the technical skills of the imec team and the foresight of our funders and institutions in supporting and executing this state-of-the-art neural engineering project.", added John O'Keefe, Professor of cognitive neuroscience at University College of London.
Source: Imec