Lab on the tip of the world
The Smiths Medical High Altitude Laboratory is open for business - 3,400 metres up Mount Everest
Smiths Medical, part of the Smiths Group, has organised and is maintaining one of four main laboratories for Caudwell Xtreme Everest - the biggest human biology study ever performed at high altitude.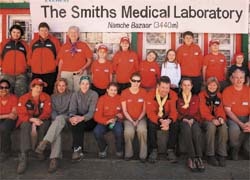 As they climb progressively higher, to reach Everest base camp at 5,300 metres (17,225 ft), over 200 volunteers are to be studied by some 60 doctors and scientists. More detailed research will be performed on a group of experienced mountaineer scientists who aim to climb to Everest's summit at 8,850 m (29,035 ft) to take the first arterial blood oxygen measurement at the top.
Caudwell Xtreme Everest is being conducted by a team from University College London (UCL) and is supported by The Caudwell Charity.

The lab is also the base for the Smiths Medical Young Everest Study (SMYES), which will investigate how nine British children cope with low oxygen levels in Everest's foothills. Doctors and scientists from Great Ormond Street Hospital (GOSH) and The Institute of Child Health, at UCL, are running SMYES. They hope to find links between the human body at its limits during critical illness and changes that occur at high altitude. In common with intensive care patients, high altitude mountaineers have a low level of oxygen in their blood. The team hopes to improve the chances of survival for very sick children by investigating how healthy children's bodies cope and adapt at altitude. It also aims to improve the quality of life for those with chronic/long term lung diseases and to develop new methods of detecting and treating children with disturbed sleep patterns.

Professor Monty Mythen, the Smiths Medical Chair of Anaesthesia and Critical Care at University College London, opened the lab. 'What we learn from these people as they push themselves to the limit of human performance, will help us to understand what is happening to patients fighting for their lives on intensive care units. At sea level, you can't tell who will cope and who won't. On Everest, if we can understand more about what makes someone a rapid adapter, we might be able to find the switches and adapters to help others to cope.' The professor is in the middle of spending three months running the lab. It will close at the end of May.

The lab is equipped with advanced medical testing equipment including heart and lung function monitors and cardio pulmonary exercise testing equipment. Smiths Medical, which donated medical equipment to the expedition, pioneered the development of single use devices to help people breathe. Over the past decade, the firm has contributed around £4 million towards medical research at UCL.
Details:
www.smiths-medical.com/youngeverest