GE invests in technology to tackle challenges in healthcare
Times may be tough, but GE Healthcare takes a longer term view, believing innovative technologies can transform healthcare delivery and help improve patient care.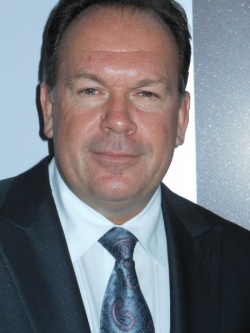 "These are very challenging times for healthcare companies," said John Dineen, the President and CEO of GE Healthcare. "The conditions are very tough in Europe, and very tough in the United States. Some companies may need to hunker down, lower expenses. But GE can take a long-term view and invest."
Dineen was on hand at RSNA to unveil a series of new products that exemplify the company's commitment to advancing technology for healthcare.
"Healthcare is an industry that requires technology to deliver better outcomes or improve workflow. What we are showing today are technologies that speak to the pressing agenda in healthcare," he told European Hospital.
Two examples of GE investments prominently displayed for the presentation by Dineen were an automated breast ultrasound (ABUS) screening system and the ExAblate MR-guided focused ultrasound treatment of painful bone metastases.
The Somo V ABUS is the first and only ultrasound system approved for breast cancer screening in the U.S. GE acquired the start-up company U-Systems in early November following FDA approval.
This unique whole breast ultrasound technology enables GE to offer a powerful new tool to radiologists as an adjunct to mammography to help physicians find previously undetectable cancers.
The ExAblate high intensity ultrasound (HIFU) system for the treatment of bone metastases represents a very long-term investment for GE going back to 1999 when it partnered with InSightec.
The MRI guided system was also recently approved by the FDA for patients who are not candidates for or refuse to undergo radiation treatment.
Awaiting FDAapproval is Silent Scan MR that reduces the noise of a scan.
According to GE Engineering Manager David Dobson, "the most uncomfortable aspects of an MR scan for the patient is the confined feeling and the noise. A T1 pulse sequence can reach 110 decibels. We have reduced that noise to just three decibels above the ambient sounds in a room. In other words, you can actually have a conversation during the scan."
At RSNA GE also introduced the Universal Viewer that brings together advanced visualization, intelligent productivity tools, and multimodality workflow for oncology and breast imaging all within one intuitive workspace that can be accessed anywhere, anytime. In an industry "first," Universal Viewer also includes integrated mammography tools for screening and diagnostics, with the ability to display images across a breadth of modalities, support CAD markers and connect with reporting systems.
GE also announced at RSNA it had received FDA clearance for an imaging tool, FlightPlan for Liver that helps interventionalists plan their liver embolization procedures.


More on the subject:
More on companies: