News • Insight report
More screening and secondary prevention needed
For World Patient Safety Day, Health First Europe (HFE) published a comprehensive insight report on five disease areas that affect millions of European citizens each year and how the European Union could and should do a better job for its citizens.
HFE is a non-profit, non-commercial alliance of patients, healthcare workers, academics, healthcare experts and the medical technology industry. The report focuses on breast cancer, type 2 Diabetes, healthcare-associated infections (HAIs), heart failure and severe combined immune deficiencies (SCID). It outlines the burden of such diseases to the healthcare systems of the European Union and shows the solutions and concrete examples known to be effective in screening programmes for these diseases. It also lays out concrete policy recommendations to improve outcomes for patients and society throughout the EU.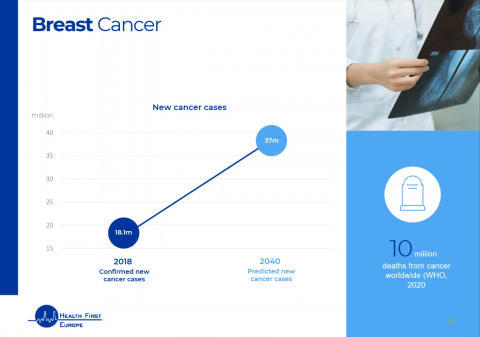 "This insight report is potentially game-changing as it shows how much screening and secondary prevention can help to improve our healthcare systems," said Roberto Bertollini, Honorary President of Health First Europe, and a former Chief Scientist of the WHO Regional Office for Europe. "If this report doesn't demonstrate the importance of boosting the availability of screening programmes in Europe, I am not sure what will."
For breast cancer screening, the editors of the report recommend promoting appropriate health information systems linked to screening programmes and existing cancer and mortality registries. Furthermore, primary and secondary preventive strategies should be integrated through comprehensive approaches to support the implementation of best practices and to minimise the current inequalities in breast cancer control.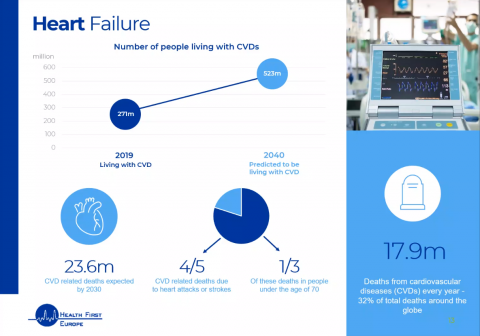 For the treatment of cardiovascular diseases, the experts said that it must be ensured that patients have timely access to diagnostic services and treatment of heart failure, through appropriate reimbursement procedures in all relevant settings.
HFE Executive Director Brandon Mitchener said that the current impact of the analysed diseases on EU healthcare systems highlights the need to boost secondary prevention and screening programmes across the EU. "The use of digital tools in particular has the potential to unlock a pool of valuable knowledge in an unprecedented way to prevent diseases and identify early signals of poor health," he said.
The report highlights that screening programmes and systematic health checks for noncommunicable diseases are still not routine in most European countries.
John Bowis, HFE Co-Patron and a former Member of the European Parliament, said that the report is "a clear warning to policymakers that the role of secondary prevention and screening needs to be taken much more seriously. These are key enablers for saving lives while ensuring the sustainability of our healthcare systems." (SB)