Nuclear medicine
Eckert & Ziegler expands cooperation program with drug developers
Eckert & Ziegler AG, a specialist for isotope-based applications in medicine, science and industry, is expanding its cooperation program with promising drug developers in the field of nuclear medicine and will support Curasight, a spin-off based on research by the group of Professor Andreas Kjaer at the National University Hospital (Rigshospitalet) and University of Copenhagen, in obtaining market clearance for its uPAR breast cancer diagnostic agent. To do so, Eckert & Ziegler – represented by its Radiopharma segment – will focus mainly on the development and validation of the pharmaceutical production process and leverage its isotope laboratories and global infrastructure for this purpose. The pre-clinical and clinical trials, however, will continue to be managed from Denmark.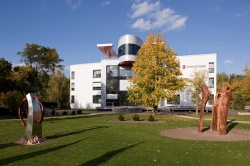 In exchange for its services, Eckert & Ziegler will receive minority interests on a step by step basis. To a minor extent, the Group also will commit to a financial investment. However, the main contribution to the increase in Curasight's value remains the experience with the pitfalls of the approval process and the special requirements in the field of radiopharmaceuticals.
"Many international drug developers have already taken advantage of our services, including Octreopharm Sciences GmbH, which is developing diagnostic and therapeutic agents for the treatment of neuroendocrine tumors. Last year, Octreopharm was also successfully sold to the French pharmaceutical company IPSEN," Dr. André Heß, Member of the Executive Board of Eckert & Ziegler AG and responsible for the Radiopharma segment, explains. "We look forward to a fruitful collaboration with Eckert & Ziegler AG and believe the two companies are a perfect match", says Morten Persson, CEO and co-founder, Curasight.
The rising demand for nuclear medicine imaging methods (PET/CT) and the trend toward personalized medicine are leading more and more small, highly qualified drug developers for radiopharmaceuticals to enter the market. Eckert & Ziegler has decades of experience in isotope technology, allowing it to help these new companies develop their medicinal products. The support provided includes the use of isotope laboratories as well as the complete development of radiopharmaceutical production and testing methods (CMC) by Eckert & Ziegler.
Curasight has successfully guided the medicinal product known as uPAR (Ga-68-NOTA-AE105) through clinical phase I. As a Ga-68-based radiodiagnostic agent, it is primarily intended to diagnose breast cancer. The current practice for evaluating diagnostic findings often entails removing the sentinel lymph node surgically and examining the tissue. By performing a biopsy of the lymph node, experts can identify whether a tumor has already metastasized and then determine what the options are for the further course of treatment. In the future, the new medicinal product will aim to make performing these biopsies unnecessary in many cases. Curasight's aim in developing this product is to make it possible with the help of a PET scan to determine in a non-invasive fashion the extent to which metastases have formed in the sentinel lymph node and elsewhere, and whether the lymph node actually needs to be removed. By receiving an individual diagnosis that is tailored to their specific case, many women with breast cancer can be spared unpleasant side effects. It would also reduce the overall examination time.
With approximately 1.7 million new cases per year across the globe, breast cancer is the second most common type of cancer (WHO World Cancer Report 2014). Each year, some 70,000 women in Germany alone are diagnosed with breast cancer.
Apart from Eckert & Ziegler, SEED Capital Denmark − Denmark's largest early stage venture fund − is also an investor in Curasight.
With around 700 employees, Eckert & Ziegler Strahlen- und Medizintechnik AG is one of the world's largest providers of isotope technology components for radiation therapy and nuclear medicine.
Source: Eckert & Ziegler AG