Cryonics: an ambulance through time or the coldest grave ever?
Holger Zorn reports
Who has not dreamed at least once to live in future times? Who would not want that one's today incurable diseases may be cured in the future by medical progress? Long-time cryopreservation immediately after death is the betting ticket to that future.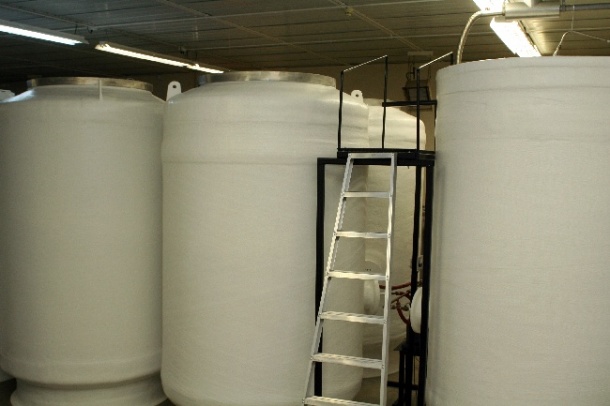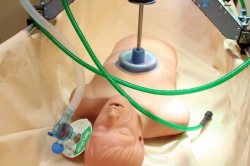 The millennial Goslar, a picturesque half-timbered town in the Harz Mountains in Germany, has hosted the first European Scientific Symposium on Applied Cryobiology in early October. And thousand years of healthy life, that is was the almost 50 participants from Europe and the United States want to have. They discussed the current state of cryonics, a side field in physics and physiology, first described 1962 by American physicist Robert Ettinger: "No matter what kills us, whether old age or disease, and even if freezing techniques are still crude when we die, sooner or later our friends of the future should be equal to the task of reviving and curing us.", he wrote in his privately published book "The Prospect of Immortality". Since 1977, when he hung his own mother in a home-built refrigerator, Ettinger is considered the "father of cryonics".
Ben Best, the first speaker in Goslar and one of the most experienced experts in that field, defines cryonics as "the practice of preserving legally dead humans and animals at cryogenic temperatures in the hope that future science can restore them to healthy living". Best runs the Cryonics Institute (CI) near Detroit, Michigan, and has actually 96 clients stored in tanks filled with liquid nitrogen. The Alcor Life Extension Foundation in Scottsdale, Arizona, and a non-profit organization like CI, has even 98 patients, and KrioRus in Alabushevo near Moscow, Russia, the first provider outside the US and the first commercial one, has already 12 clients frozen. If civilization endures, all of them have a guarantee to become unfreezed at the time of their choice but nobody can be sure to be properly re-animated.
However, more than 1400 people worldwide have already signed and paid a contract as future client. Klaus Sames, former professor for anatomy, is one of them. 1,250 dollar at once cost him the lifetime membership at Cryonics Institute. The day he will die, another 28,000 dollars are due for longtime storage at -196°C in the cryostat. Additionally, it is a long and expensive way from Senden near Ulm in southern Germany where he lives to Clinton Township near Detroit in Michigan, USA, where the Institute is based. Nevertheless, Sames is not scared about, he knows the effort and cost, has already accompanied patients on this particular final journey. "A term life insurance is an effective way to cover all these costs", he says.
Sames has real concerns regarding the effectiveness of the preparatory steps for that trip, because the today's technique of whole body preservation is the most crucial point: Cells must be protected from destruction by necrosis and apoptosis; particularly brain cells are very sensitive. To avoid as much damages as possible, the ice formation in cells and tissues while cooling must be prevented. Therefore, the neck or femoral vessels are cannulated, an extracorporeal circuit is established and the blood completely replaced by an antifreeze solution. This vitrification process leads to an amorphous, glass-like structure of body liquids. But this process is also the most unsolved problem at present: the Circle of Willis, a connection of cerebral arteries which allows blood to take a detour on his way to the brain if one artery is clogged, thus helping to prevent a stroke, is the reason why we cannot determine with certainty whether the vitrification solution has really reached all areas of the brain and washed the blood completely out.
Race against the clock
Marcus Beyer, computer scientist and chairman of the German Society for Applied Biostasis, puts it this way: "Necrotic brain cells definitely can't be repaired with present technologies, though persons waiting in liquid nitrogen are usually not in hurry." But even for him, time is the biggest enemy. Vitrification should be started as soon as possible, that's why he wants to generate more understanding and tolerance among physicians, among relatives of patients and among the legislator, regarding why patients choose today's premature cryonics procedures to be applied upon them. Christoph Meissner, forensic physician at the University of Luebeck, explains: "Only if reliable signs of death can be observed, a death certificate is issued by a physician. And those signs occur at earliest 1 – 2 hours after death." According to the German Code of Criminal Procedure, a public prosecutor must called by law if there are any hints for unnatural death. In the UK there is always an autopsy necessary, in France in contrast, it is very rare – and one physician is enough to sign a death certificate. "We fight for the right to die because we want to live after", Beyer summarized the problem.
The easiest way of today to solve this time problem is an alternative route: staying the last days closed to the chosen cryonics provider. As an alternative, EuCrio, a Portuguese start-up company based in Braga, has launched in October and starts providing Europe-wide standby support and transport on November 1st. Pre- and peri-death support is particularly needed in the time between the death and its official statement: blood must flow through vessels and organs to make sure the oxygen supply of organs until the extracorporeal circuit can be established and the vitrification solution can start. The members of national cryonic clubs may help each other such as existing teams of volunteers in UK, Finland and Germany. David Styles, CEO of EuCrio, however, believes the time is right for professional service even if clients must calculate with additional costs from 45,000 up to 119,000 Euro: Trained teams shall come to the client with a mechanical ventilator and a thumper for automated cardiopulmonary support, with a full arsenal of drugs, and with a portable dry-ice tub. Thus prepared, any delay - for example due to the absence of a coroner - can be avoided and the dead client may well-cooled shipped to Ben Best's Cryonics Institute or any other provider of his prior choice, to be stored there at -196°C until the desired de-freezing day.
A bet on the future
When that day comes, hope the cryonauts, they are thawed and brought to life, and damages are so less, her mind is so clear that they perceive it and also enjoy their new life. Actually, a proof of that concept does not exist yet, neither for human nor for mammalians who are not hibernators. Sames can only refer to a vitrified and then successfully transplanted rabbit kidneys, published by Gregory M Fahy in 2009[Source: ORGANOGENESIS 5;3:167-75] but never repeated by other teams, and adds: "We know that the ideal vitrification solution is not yet found". He is counting on medical progress that will bring the solution and will also develop rejuvenation technologies – very important for all cryonauts because of course they won't come back as old people with all their age-related disabilities and diseases. They are sure to lose nothing – except a little money, if this will never work – but to win everything. And so ends the first scientific symposium on cryonics in Europe with the hope of most participants that it will not last a thousand years before this future will appear.