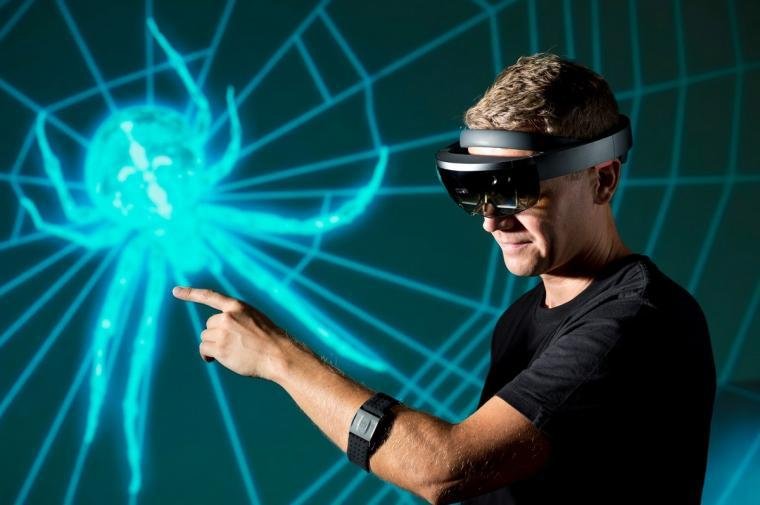 Source: Fraunhofer IBMT, Bernd Müller
Article • Extended reality
The application of XR in mental health care
Mental disorders are among the leading causes of ill-health and disability worldwide, and the demand for a viable solution to battle the mental health crisis has risen. The past two decades have witnessed the emergence of extended reality (XR) as a tool for investigation, assessment, and management in mental healthcare.
Report: Sascha Keutel
Extended reality systems such as virtual reality (VR) and augmented reality (AR) provide a digital simulation either of a complete environment or of objects and items within the real world.
Applying XR has several benefits in treating behavioral health conditions and psychiatric disorders. First, the immersive technology allows therapists to place patients into customized worlds within a safe environment in their offices. Second, the simulated 'reality' can be controlled and patients may safely learn to cope with their feelings and behavior.
Third, researchers can tailor more complex experiences for patients, helping them to overcome all kinds of mental ailments from social anxiety to psychosis to PTSD.
XR is especially helpful to reach young people. For example, Enlighten AR has created the Mental Health Mentor in collaboration with Staffordshire University and Staffordshire County Council in the United Kingdom.
The app has been designed to break down barriers and open up conversations about mental health in schools and is currently being rolled out across the county. Interactive features include animated avatars which learners can choose to represent themselves and an initial quiz to help signpost young people to relevant support.
Post-traumatic stress disorder (PTSD)
While commonly associated with veterans, PTSD can occur in people of all ages, ethnicities, nationalities and cultures. The symptoms include insomnia, nightmares, memory loss and personality changes.
Virtual Reality Exposure Therapy (VRET) – repeatedly exposing patients to their traumatic event or face increasingly stressful situations in a controlled environment – has been found to be an effective treatment. It enables the patients to enter an immersive environment and to re-live traumatic events without the risk of physical harm. It also allows clinicians to help patients isolate triggers and build up resistance to prevent attacks from happening in the future.
Researchers at the University of Southern California's Institute for Creative Technology (ICT) have created Bravemind. Using an immersive and realistic virtual environment, Bravemind recreates unique interactive scenarios to help soldiers to process and deal with wartime trauma.
Phobias & disorders
Virtual reality continues to expand its uses in treatments for psychological conditions of common phobias and disorders, such as arachnophobia, acrophobia, agoraphobia and panic or eating disorders.
Scientists at the University of Vermont applied Olfactory Virtual Reality (OVR) — a form of VR that incorporates the sense of smell into its virtual environment. They provided evidence that stimulating the olfactory system via scent in practitioner-administered VR can trigger memory, cognition and emotion and may improve the therapeutic benefits of immersive environment targeting chronic pain, anxiety and mood disorders.
To fight phobias, researchers at the University of Oxford's Department of Psychiatry have developed a VR program in which a computer-generated virtual coach delivers psychological therapy. The users can personalize their treatment and can interact with the virtual coach using voice recognition technology.
Psious is a virtual reality therapy platform for mental health professionals. The platform provides them with over 70 virtual environments and scenes they can use in their clinical practice.
Attention deficit hyperactivity disorder (ADHD) is a debilitating illness that can have a detrimental effect on the patient's quality of life, causing problems with educational performance, anxiety, depression and self-esteem.
XRHealth provides virtual reality headsets preloaded with a wide variety of treatment applications designed to help patients cope with ADHD. These apps offer immersive learning environments with activities that improve the patient's concentration, reduce impulsive behaviors, and increase attention spans.
Depression
According to the World Health Organization (WHO), depression is one of the most common mental health disorders, affecting over 264 million people of all ages across the world. Treatment usually involves curbing negative emotions, not boost positive ones.
Virtual reality offers an effective treatment within immersive treatment environments as that can help distract the patient's brain from negative thinking thoughts. If the patient can convince the brain to focus on other, more positive things, it's easier to cope.
A study from 2019 illustrated how VR can be effective in diffusing negative thoughts. It showed that patients can learn how to manage them by manipulating self-critical words in a virtual environment using handheld controllers.
In a current trial, researchers at Yale University have found that patients participating in the VR sessions experienced reduced levels of depression. The technology offers a safe alternative to young patients who might otherwise have difficulty attending group sessions or who are uncomfortable talking in a public session.
Conclusion
As the cost of XR technology dips XR treatment becomes mainstream. Digital therapy has become an accessible, affordable and effective solution to a range of mental health issues. It can ease certain phobias, treat PTSD, help people with psychotic disorders experience less paranoia or anxiety in public settings and reduce social anxiety.