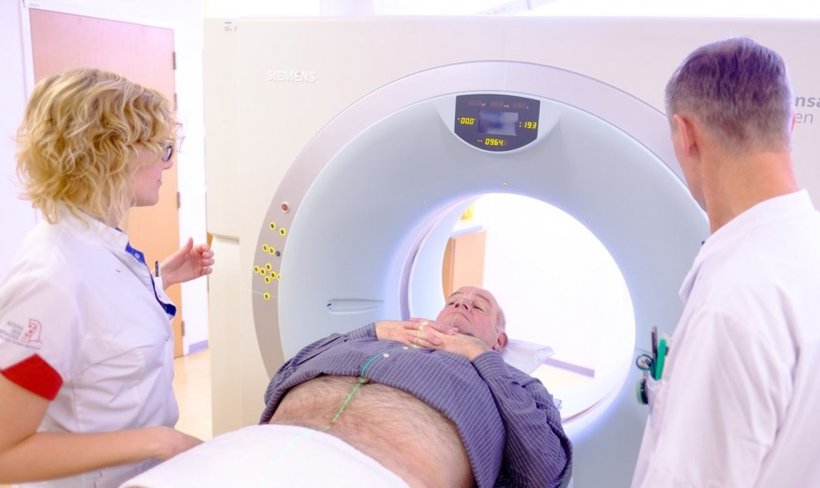 Image credit: Netherlands Cancer Institute
News • Personalizing treatment
AI can help improve precision radiotherapy
The Netherlands Cancer Institute, University of Amsterdam (UvA), and Elekta will collaborate on the development of new AI strategies for the further improvement of precision radiotherapy.
This concerns the personalization of treatment by improving the quality of imaging used during treatment, predicting and accounting for changes in the patient's anatomy over time, and automatically adapting radiation delivery each time a patient is treated.
The collaborating parties have recently been awarded a grant of the Rijksdienst voor Ondernemend Nederland (RVO), making the Partnership for Online Personalized AI-driven Adaptive RT (POP-AART) lab a reality. The lab, part of the Innovation Center for Artificial Intelligence (ICAI), aims to use state-of-the-art AI methods to optimize online adaptive radiotherapy. The goal of adaptive radiotherapy is to account for changes that can occur in patients over the course of treatment and to 'adapt' the original prescription for every day of treatment to ensure the right dose is delivered at the right time to the right location, with minimal damage to healthy tissue. This a great challenge that should be a part of every treatment session, because the patient and the tumor are continuously in motion and change shape over time. In the past, this has been impossible to achieve due to computational and workflow complexities, but AI has the potential to make that achievable in the near future.
We believe AI has a critical role to play in assisting clinicians to provide increasingly personalized and complex cancer treatment to patients

Maurits Wolleswinkel
Jan-Jakob Sonke, group leader adaptive radiotherapy, professor by special appointment at the UvA, and one of the two lab directors, greatly looks forward to the start of the lab. 'Not only is it our ambition to create incredibly innovative AI algorithms – we also want to make sure that they can be applied to clinical practice so patients can receive even better treatment'. Efstratios Gavves, associate professor on computer vision and deep learning at the UvA, and director of the lab: 'The time is ripe to combine the power of Artificial Intelligence and big data with the cutting-edge expertise of the University of Amsterdam and the Netherlands Cancer Institute, for an application with tremendous impact: battling cancer.'
The lab will pioneer the use of novel deep learning approaches to address challenges in modern radiation oncology including personalization, speed, and precision. Multiple work streams will run in parallel over the course of the partnership, and each will address various key elements in the radiotherapy process including the quality of daily treatment images, and strategies to detect and adapt for changes in a patient's anatomy and methods to continually personalize the treatment plan for patients. Maurits Wolleswinkel, President Linac Solutions & Chief Product Officer at Elekta, says 'We believe AI has a critical role to play in assisting clinicians to provide increasingly personalized and complex cancer treatment to patients. Elekta's participation in POP-AART underlines our commitment to precision radiation medicine.'
Source: University of Amsterdam