Womens Health in Pink
Arriving at the Austrian Congress Center in Vienna, a pink truck is striking the eyes of the visitors of ECR. The truck took the long way from Belgium to Austria to demonstrate a pretty successful project of the University Hospital Brussels: A mobile mammography unit that examines women living in rural areas and who otherwise would probably not join the screening programm. The trailer was jointly designed by the hospital, Lamboo the trailer company and GE Healthcare that equipped the truck with their digital mammography system Sonographe Essential.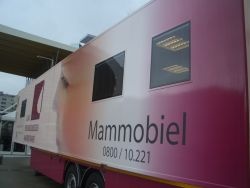 In commenting on the hospital's choice of mammography systems, Dr. Catherine Breucq, head of the Breast Imaging Department at the University Hospital Brussels, said, "GE's mobile mammography unit allows us to visit small towns thereby reaching more women. Our aim is that this mobile solution will help us to increase the local women's attendance rate in screening. The team has worked hard on the internal and external design of the trailer to ensure patient comfort in a pleasant atmosphere during the exam."
The Sonographe Essential is a unique system, designed for a mobile environment; each component of the mammography system is designed to ensure sustainable quality and effectiveness despite road conditions and wide temperature variations. Using GE's digital mammography mobile solution, local healthcare professionals readily travel from city to city, with the target to reach more women for breast cancer assessment. The imaging data transfer is done safely from the center for analysis and diagnosis.
The results of the examinations are then given to both – patient and physician.
More on the subject:
More on companies: