News • Emerging Tech
Will 3D printing bring radiology to the next level?
As 3D printing technology continues to evolve, read how radiology will be involved in managing digital workflow related to patient care.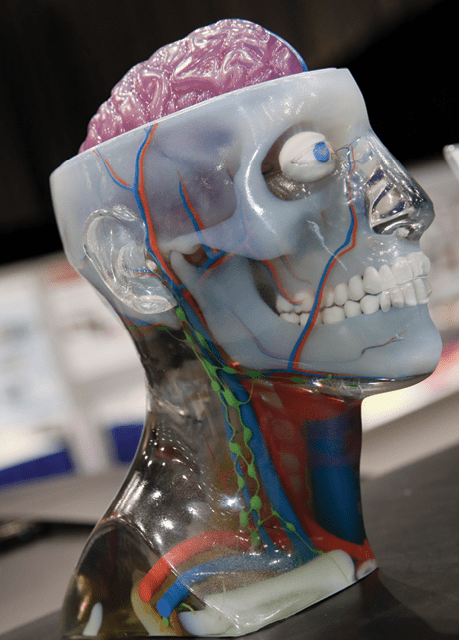 "3D printing is a part of medicine, and radiology is at the center of this impactful new technology," said RSNA 3D Printing Special Interest Group (SIG) Chair Jane Matsumoto, MD, assistant professor of radiology and co-director of the 3D Printing Lab at the Mayo Clinic, Rochester, MN. "Many radiologists see 3D printing as an evolving part of their practice; an innovative new way to display imaging, contribute to patient care and offer clinical value to their medical and surgical colleagues.
And as the technology continues to evolve, 3D printing could bring radiology to the next level in the health care industry. "Being embedded in the health care system, radiologists are uniquely positioned to manage the entire digital workflow ­— from imaging acquisition to the eventual 3D-printed product," added SIG member Jenny Chen, MD, adjunct clinical faculty, Department of Radiology, Stanford Health Care.
As 3D printers become cheaper and the learning curve is less steep, radiologists are using the technology for more types of models and to simulate procedures than ever before. For example, radiologists can now use a patient's own imaging data to print 3D anatomic models that serve as aids in complex surgeries and for simulation training. 3D printing is also being used to create individualized osteotomy cutting guides to contribute to precision surgery.
The technology has even started to find its way into such areas as renal sparring surgery, prostate cancer treatment, tracheal reconstruction and lung segmentectomy. "Within radiology, there are biomedical engineering opportunities for the development of customized medical devices, prostheses and phantoms based on imaging data," Dr. Matsumoto said. Many of these developments will be highlighted at RSNA 2018. "Daily didactic sessions will cover everything from the basics of starting a 3D printing lab within radiology to practical applications, quality assurance, research and education," Dr. Matsumoto added.

Highlights include a number of hands-on sessions and a FDA-led discussion on the agency's oversight of 3D printing. The Informatics Community in the Learning Center will host a self-directed exhibit on the 3D Printing SIG. In addition, a variety of posters and education exhibits in all subspecialties including 3D printing content will be presented throughout the meeting.