Virtual anatomy
In 2007, Sara Doll (Institute for Anatomy and Cell Biology, Heidelberg University) and Dr Frederik Giesel (Managing Senior Physician, Radiology Clinic, Department of Nuclear Medicine at Heidelberg University Hospital) initiated the development of virtual anatomy for a seminar aimed at students in the pre-clinical phase of their medical degree course.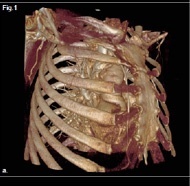 For the seminar, Roland Unterhinninghofen Dr.-Ing, at the Karlsruhe Institute of Technology, developed an interactive educational software package.
The objective was, and continues to be, the creation of a link between radiological image data collated in clinical routine and anatomical content for educational purposes. These image data are then shown in 2-D and 3-D so that students can, for instance, carry out virtual dissections.
Due to high demand for the clinical study phase, Dr Giesel also introduced a seminar entitled 'Virtual Radiology, Nuclear Medicine and Radiotherapy', to cover pathological and hybrid imaging and the use of image-guided radiotherapy.
These links between pre-clinical and clinical subjects (anatomy and radiology) happened against a background of rapid technological change in computer-aided teaching concepts. The introduction of particularly the touch screen made it possible to offer students more post-processing software for im­ages data. Therefore, the software environment in Heidelberg was also adapted for tablet computers. The teaching and learning environment already facilitates an interactive surf-by 3-D anatomy teaching and learning function. The software facilitates 3-D viewing and virtual dissection as well as 2-D viewing with axial, coronary and sagittal visualisation in real time.
This new technological concept facilitates individual and intuitive work with radiological-anatomical image data and can help to improve spatial imagination. At this year's ECR, the software developer Dr Unterhinninghofen will introduce, for the first time, this technological implementation and new potential.
Most recently, the teaching and learning concept at Heidelberg has also been supported by a CT-scanner in the anatomy department. This makes it possible to digitise preparations prior to macroscopic anatomy with high-resolution procedures and to explore and analyse them alongside the dissection, almost as in 'real' medical routine.