Ultrasound device in pocket size
GE Healthcare presented Vscan, a new, pocket-sized visualization tool developed to provide physicians with imaging capabilities at the point-of-care. Roughly the size of a smart phone, Vscan houses powerful, ultra-smart ultrasound technology that provides clinicians with an immediate, non-invasive method to help secure visual information about what is happening inside the body. Vscan is portable and can easily be taken from room to room to be used in many clinical, hospital or primary care settings.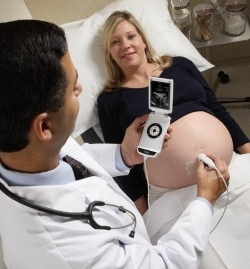 The Vscan imaging device received 510(k) clearance in the U.S. by the Food and Drug Administration (FDA), the CE Mark by the European Union, as well as the Medical Device License from Health Canada and is now commercially available in the U.S., Europe, India and Canada.
"Having Vscan at my disposal at all times has allowed me to use ultrasound in a number of settings and with patients that I wouldn't have anticipated before – from the ICU, to the outpatient clinic as well as with ambulatory patients," said Anthony N. DeMaria, MD, Professor of Medicine, Judith and Jack White Chair in Cardiology and Director, Sulpizio Cardiovascular Center at University of California, San Diego School of Medicine. "Vscan is more than a simple diagnostic tool. The handheld device should help physicians make treatment decisions more quickly. I believe the Vscan technology will play an important role in physical exams."
The ability to take a quick look inside the body using Vscan may help clinicians detect disease earlier. This may prove invaluable in today's busy practice environment including primary care physicians and those specializing in cardiology, critical and emergency care and women's health, as well as hospitalists.
"During our initial evaluation of approximately 100 patients using Vscan, we have been impressed with its image quality and ease of use," said Jose L. Zamorano, MD, FESC, Director Cardiovascular Institute University Clinic San Carlos Madrid, Spain. "But even more important than that, we have experienced first hand the value of adding such a tool to our clinical and physical examination, adding clinically relevant information in roughly one out of every four patients. "
Vscan offers the image quality that until recently was only available with a console ultrasound. Vscan leverages GE's high-quality black and white image technology and color-coded blood flow imaging in a device that fits into a pocket and weighs less than one pound at 3 inches wide and 5.3 inches long.
Other features include:
• An online portal provides Vscan users with training tools for the product and basic clinical
applications with sections about imaging technique, anatomy and trouble shooting
• Intuitive user interface that can be controlled using the thumb
• Intelligent workflow enhancements
• Battery charger station and battery life of one hour scanning – good for up to 30 patients
based on average of 2 minutes per scan
• Voice annotation
• USB docking station
• Link to a PC for organization and export of data
• Gateway software with services tools and remote diagnostics

More on the subject:
More on companies: