The UK's one million undiagnosed diabetics
Report: Brenda Marsh
At the end of June a shocking new estimate was released in the UK regarding the number of people unwittingly going about their lives without knowing they are type 2 diabetics – there are just over a million of them. How will the country cope with this discovery and its present diabetic population?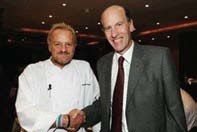 The new figures, from Diabetes Health Intelligence, a strategic programme of Yorkshire and Humber Public Health Observatory, have suggested that, in England alone, 820,000 adults with diabetes are undiagnosed. Based on this model, Diabetes UK -- the largest organisation in the country working for diabetics, funding research (over £6 million in 2010), campaigning and helping diabetics to live with the condition -- estimates that the figure rises to just over a million (1.1 million) when applied to the UK, and in the long-term could take the total UK diabetes population to 5.5 million by 2030.
Just think – this number is only 1.7 million short of the entire population of Greater London today. That means a National Health Service (NHS) nightmare of dealing with the equivalent of a large city made up of diabetics.
It's not the only nightmare: Europe's current 646 million people include 55.2 million diabetics. Inevitably, by 2030 those figures will rise to about 659 million people – and they are expected to include 8.1 million diabetics – an increase of 20%.
Diabetes UK CEO Douglas Smallwood said the new UK estimate is 'truly alarming', adding: 'Whilst screening of at risk groups has started, notably through the NHS Health Checks programme, it is clear there needs to be greater emphasis on successful delivery throughout the country.' For what the analysis had shown was that the areas covered by Primary Care Trusts (PCTs) with the highest percentage of diabetes-attributable deaths have a higher than average proportion of over 40-year-olds, and are where they are populated by large numbers of over 40s of Asian and Black origin, who are at higher risk of developing Type 2 diabetes. These PCT areas also have high levels of deprivation compared to trusts with the lowest proportion of deaths. For example, the percentage of diabetes related deaths varied at PCT level from 9% in the more affluent Buckinghamshire area to 17% in the less privileged area of Newham, East London.
Thus the charity also wants to see improved access to health services for the many communities in the UK who, because of their social or ethnic backgrounds, may currently be excluded from mainstream services.
Diabetes UK also stresses the importance of diabetes testing and diabetes awareness programmes being available through a variety of settings, such as pharmacies and local outreach services. 'We urgently also need to improve diabetes prevention and awareness programmes around the country, coupled with vastly improved support for people to change their behaviours,' Douglas Smallwood pointed out. 'Avoidable in so many cases, the Type 2 diabetes epidemic is a clear example of where the new government's rhetoric of tackling health problems through prevention must be turned into action. Failure to act now means a bleak future of spiralling NHS costs and worsening public health.'
Speaking of the country's new government, on hearing the latest diabetes news, its Care Services Minister Paul Burstow said, 'The increase in diabetes is extremely worrying. The Coalition Government has already signalled that public health is a priority. We must help people to tackle the causes of type 2 diabetes through dietary and lifestyle changes. Everyone should ensure they are aware of the symptoms of diabetes, which include thirst, tiredness, unexplained weight loss, passing urine frequently, blurred vision and frequent infection. If you or your child have any of these symptoms you must act immediately and contact your GP for a diabetes test. Delay may be dangerous, especially in children.' He then pointed to the fact that the PCTs are running risk assessment and management programmes.
The NHS Health Checks programme
Diabetes UK believes that the Government's NHS Health Checks programme will help to identify more people with Type 2 diabetes.
Introduced in April 2008, the programme is intended to cover 40-70-year-olds in England who have not already been diagnosed with any of four diseases: type 2 diabetes, cardiac, stroke or renal. Those eligible for the health check are receiving, or will receive, invitations to be tested for the risk of the four diseases by their local PCTs. However, the full implementation of the programme cannot be expected for two to three years.
During a 20-30 minute health check, the respondents are first asked questions such as height, weight, sex, ethnicity age, family history, medication taken, and then their BP is checked, a blood same is taken to check cholesterol, and their BMI is calculated.
A trained professional then gives and explains the results, and advises on health maintenance, any necessary lifestyle adjustments and, if needed, offers medication e.g. to lower BP.
Costs
The most recent statistics (for 2008) produced by the Yorkshire and Humber Public Health Observatory revealed that one in ten deaths among 20-79-year-olds could be attributed to diabetes. The then statistical projection was that by 2010 this would become one in eight. Imagine, therefore, the millions of deaths attributable to diabetes in 2030 – not to mention healthcare costs. An estimate of the costs of NHS diabetes care is £9 billion a year – or, taking it down some, one million pounds every hour of the day.
Well, things are bad but, unlike England's footballers in the World Cup, Diabetes UK is not down, but up-beat. 'Following on from the successes of our previous five-year plan, we are now in a strong position to continue developing and responding to changing environments,' Douglas Smallwood has confirmed. And, he adds: 'As the World Cup coincides with Diabetes Week (13–19 June), we thought it would be interesting to see how England's diabetes population compared to the other countries in its group.' The charity revealed that England has the lowest percentage of people with diabetes at 3.6% (2.14 million people), compared with the USA, Slovenia and Algeria -- the other countries in its group. Rankings: Bottom of the league: USA - 10.3% of its 26,813,000population with diabetes; next Algeria - 8.5% of the 1,632,000 population, and then Slovenia with 7.7% of its 153,000 people.
'Although we come out top with the smallest percentage of people with diabetes in the overall population, diabetes is one of the biggest health challenge facing the country today,' he said. 'Type 2 diabetes can be undetected for 10 years or more, meaning 50% of people already have complications by the time they are diagnosed. Furthermore, diabetes is a huge strain on the NHS, which spends £1 million an hour (or £9 billion a year) treating the condition.'