Second opinion from afar
Telepathology: a prime application of digital pathology
Telepathology remains the number one application for digital pathology, according to a leading expert in the field. Speaking to the 7th Digital Pathology and AI Congress: Europe, Professor Liron Pantanowitz outlined the advances in telepathology over recent years, and how it has facilitated access to broader expertise, image sharing and rapid second opinions, even while a surgeon is operating on a patient.
Report: Mark Nicholls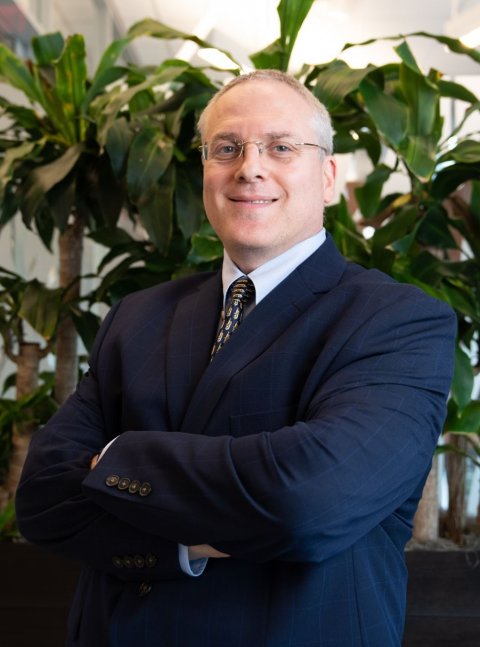 Currently Professor of Pathology and Director of Anatomical Pathology at the University of Michigan, he examined the clinical, operational and business-related benefits of performing telepathology; reviewed the role of telepathology in the acute care setting for intra-operative consultation; and assessed the role of telepathology in the chronic care setting for second opinion teleconsultation. "Telepathology has clinical advantages and allows access to pathology experts which undoubtedly improves patient care," he said. "Operationally for labs and enterprises, there are many gains to moving an image which is far easier than moving a pathologist, patient or a physician around. Also, when we have the technology, it encourages consultation, and people will share cases."
However, he warned that this is a "double-edged sword" and when telepathology is available, it becomes a standard of care that centres are expected to use. Additionally, telepathology can increase revenues, directly and indirectly. "With widespread availability of advanced imaging technologies and telecommunications, access to expert pathologists is no longer a limiting factor," he said.
Telepathology can trace its origins back to 1968, with significant advances in technology and growth in its use since. Today, key modes include sharing snapshots, video streaming, robotic microscopy, and whole slide imaging (WSI). But challenges remain. With frozen sections in acute care settings there is the need to handle specimens correctly; slide artifacts; pressure of rapid turnaround time of 20 minutes or less; diagnostic pressure on pathologists expected to make a decision impacting real-time patient management; and liaison with surgeons.
The concordance – digital-to-glass read – is almost near perfect. The technology has improved such that it now allows pathologists to do a better job and improve their accuracy of making remote reads

Liron Pantanowitz
A recent systematic review of the telepathology literature for intraoperative consultation by Professor Pantanowitz found that the mechanisms of robotic microscopy and WSI provide best concordance. "When you give the pathologist access to the entire slide, they are likely to be much more accurate than if you use a static image," he said. "Furthermore, we looked at technology from 1990 to the present day and found that early on pathologists were not as accurate as they could be with only using static images. However, in the last decade when we now have WSI systems, you can see that the concordance – digital-to-glass read – is almost near perfect. The technology has improved such that it now allows pathologists to do a better job and improve their accuracy of making remote reads. We have even combined the best of both worlds with hybrid devices using robotic microscopy together with WSI."
Keeping abreast of technology is important, he said, to leverage new devices that have a very small footprint and better optics, hardware and software to support telepathology. Migration to newer systems can improve performance. With operations and workflow, bi-directional communication is essential along with effective system integration with access to the LIS, EMR and PACS. Good connectivity is also paramount, whether in the same building or different institutions.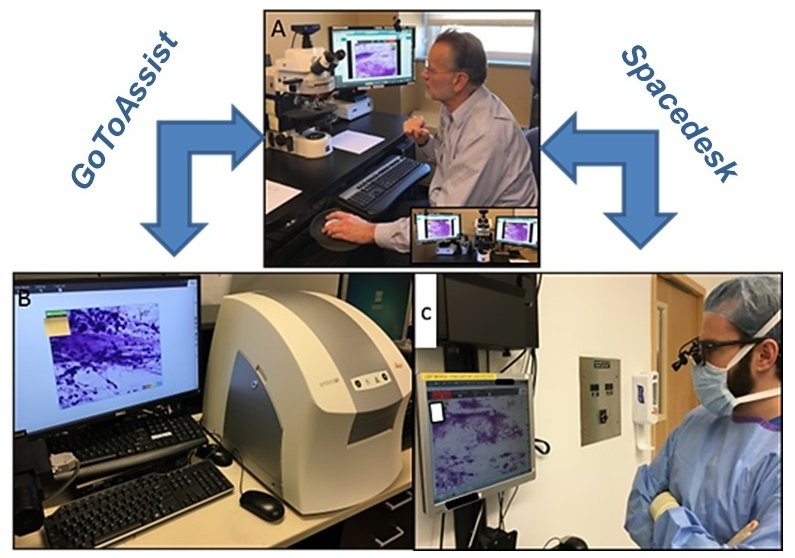 Image courtesy of the Journal of Pathology Informatics / Dr. Jennifer Picarsic
He offered an example from Pittsburgh Children's Hospital where a neuropathology case was under way and sent for frozen section. A neuropathologist in a different hospital read the case using desktop sharing software while the neurosurgeon was with the patient in the operating room and could simultaneously participate and see the case being reviewed. Professor Pantanowitz emphasized the importance of having all devices validated for clinical use and that departments should expect an ongoing expansion of service. Pathologist-related issues such as training and competency, and ensuring malpractice coverage did cover telepathology, should be considered. "Competency using a telepathology system requires ongoing training," he added.
Moving to second use cases of telepathology, he said this has wide benefits, particular internationally and in countries with limited access to equipment and expertise. "A persistent shortage of pathologists increases the demand for expert diagnostic consultation and education. It is also much easier today to share challenging caese due to a shift towards web-based platforms, agnostic viewers and cloud services. It is very easy now to share images," he said.
Low-cost technologies have helped with the success of international telemedicine and good communication is pivotal, though mobile technologies and cellular networks have been significant in advancing this. Strong leadership, user acceptance and IT support are important elements for the success of teleconsultation. "What we have to remember is that people do not send routine cases for consultation, they send their very difficult, challenging and hard cases, so this may take longer," he said. "But looking at our data we found that for most of the cases, teleconsultants were able to provide a definitive diagnosis."
He also noted the referral landscape was changing from primarily pathologist-to-pathologist toward more clinicians wanting a second opinion and now a proportion directly from patients. Overall, with telepathology, he concluded: "I think we have come a very long way, and there are now guidelines that help with adoption of this technology."
Profile:
Dr Liron Pantanowitz is Professor of Pathology and Director of Anatomical Pathology at the University of Michigan. During his career at Tufts University School of Medicine, Baystate Medical Center, and the University of Pittsburgh Medical Center he has achieved regional, national and international recognition as a leader in the pathology field and has spearheaded landmark clinical guidelines for promoting adoption of digital pathology. Widely-published in the field of pathology informatics, Dr Pantanowitz is an Editor-in-Chief of the Journal of Pathology Informatics.