Shearwave elastography
Pakistan's Sindh province shapes up for liver transplants
Dr Ishrat-ul-Ibad, Governor of Pakistan, has provided 12 Shearwave Elastography machines from 'special funds' to various Sindh province hospitals, including in Karachi, Hyderabad, Benazirabad, Sukkur, Larkana, Khairpur Mirs and Shahdadpur.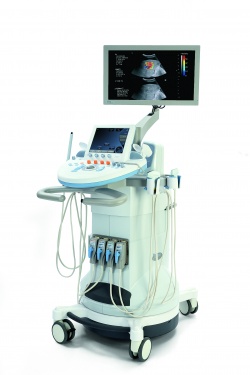 Dr Ibad commented that Pakistan is a developing country with many health challenges, because the urban population is rising more than proportionally and, due to this, the government hospitals could not provide such health facilities as are needed, and there are more health problems in rural areas.
'Most people often cannot get treatment for complex diseases, such as cancer, liver and kidney diseases, which not only affect patients but also their families.'
Doctors from Dow University of Health Sciences in Karachi have been selected to visit Maryland, USA, to undertake advanced training in liver transplantation. Earlier, two doctors had taken a six-month training course in liver transplantation in Istanbul, Turkey.
Dr Ibad: 'Liver disease is expanding speedily and most people are deprived of its treatment, which is very expensive.' In Pakistan, he added, treatment for this disease is limited to Islamabad.
Along with the specialist training in the USA, Dow University is currently preparing a Liver Transplantation Department according to international standards.