Shared standards critical in lung cancer screening
Findings from the landmark National Lung screening Trial (NLST) continue to make waves in the United States, and increasingly around the world. The principal investigator for the component of the NLST sponsored by the American College of Radiology Imaging Network (ACRIN), Denise Aberle, MD, said the NLST can provide a road map for public policy regarding lung cancer screening, though she cautions that "once you move from showing efficacy in a clinical trial to effectiveness in population-based screening, you have a very, very different animal."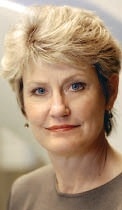 A Professor of Radiology and Bioengineering at the University of California at Los Angeles, she also serves as the Vice Chair of Research in the Department of Radiological Sciences. Funded by the National Cancer Institute, ACRIN collaborated with the Lung Screening Study (LSS) to form the NLST, which compared differences in lung cancer mortality by annual screening with low dose helical CT versus chest radiographs. Managing the NLST-ACRIN, Dr Aberle oversaw data collection for roughly 19,000 of the total 50,000 older cigarette smokers enrolled across 23 sites.
Published in 2011 by the New England Journal of Medicine, the trial found 20% fewer lung cancer deaths among trial participants screened with low-dose helical CT, a significant result from a statistical viewpoint. The rate of false-positives in NLST was high. Overall, 96.4 percent of the low-dose helical CT screens and 94.5 percent of the chest X-ray screens were not related to lung cancer. In her presentation at ESTI 2012, Dr Aberle said, "I am going to speak about what I think will happen for implementation in the United States and how I would approach it."
Fortunately, she said, she is not alone in responding to the question implicit in the topic for her ESTI presentation, "Implications of the NLST for the Rest of the World." "There are major medical groups tackling this question internationally," she said. "The organization most of us will be familiar with is the International Association For The Study of Lung Cancer (IASLC). They have taken a role in advancing discussions and have set up groups that are addressing different aspects of implementation issues on an international scale."
From her experience over the long years of managing the NLST, she said the key to implementation will be addressing concerns of stakeholders with very different needs, including primary care physicians, the health care providers running the screening clinics, and the individuals at risk themselves. "If screening were implemented inappropriately there could be greater risk than benefits," she said. "That is certainly
not what we want to do."
The NLST was a rigorously conducted randomized controlled trial, with standards for how patients were imaged, how results were communicated, and how outcome data was gathered and documented. Some level of standardization will prove "absolutely essential" for wider implementation of lung cancer screening, said Dr Aberle. "Without standards, we could see screening implementation that exposes different populations to different levels of radiation. Different institutions may develop widely differing definitions of what constitutes a positive screen, and individuals with positive screens may be followed inconsistently or inappropriately. We have to standardize the ways in which we implement screening to be able to compare our experiences, and to make sure that we do minimal harm," she said.
Immediately, most people believe the biggest risk of lung cancer screening with CT is the increased radiation exposure for individuals. Instead, she finds the greater risk is the high false positive rate seen in the NLST. "Of all positive screenings, less than 5 percent ended up being related to a true lung cancer," she said. "Yet, now that an individual has a positive CT screen, we are obliged to follow that individual in one fashion or another until we are assured that the imaging findings are not lung cancer."
This may expose individuals to additional harms, including anxiety, additional radiation or complications of invasive procedures. There is a third concern, less well understood, which is over-diagnosis, she said. "For example, we mayidentify cancers that are so biologically slow thatthey would not cause symptoms or death. Overdiagnosis may also refer to individuals treated for their lung cancer, who then die of competing causes. In both scenarios, we are converting individuals into patients, and subjecting them to treatment when, in fact, the intervention will not extend their life."
Beyond clinical implications of NLST, a key concern soon to be addressed by additional analysis of trial results is the cost-effectiveness of lung cancer screening. Dr Aberle said preliminary analysis suggests "screening will be sufficiently cost effective that it makes sense to implement such a program." She notes that two private health insurers covering patients in the United States have already endorsed screening of high-risk individuals as medically necessary and provides reimbursement for the procedure. Coverage by the national Medicare program may involve federal legislation, an action that she welcomes.
"Mammography screening in the US is federally regulated," she notes. "CT screening for lung cancer will likely also require some degree of regulation to ensure a consistent level of quality and the use of standardized approaches. Internationally recognized for her work in quantitative image analysis, Dr Aberle sees computer aided lung cancer detection and nodule characterization playing a potentially important role in implementation of a lung cancer screening program.
"I think that subjective, visual analysis, as we did in the NLST, may be replaced by computerized systems that are more automated for nodule detection and characterization," she said. A way forward may be found in the Dutch Belgian randomised lung cancer screening trial, the NELSON (Nederlands-Leuvens Longkanker Screenings ONderzoek), where images are analyzed using a computer-assisted system that is supervised by trained personnel. "Image analysis prior to interpretation by the radiologist may provide more objective, quantitative information, improve diagnostic stratification of CT-detected nodules, and reduce the time the radiologist spends, which could have positive cost implications," she said.
For your diary
Implications of the NLST
for the rest of the world
1st ESTI-STR Collaborative
Plenary Session
"Lung Cancer Screening"
Denise Aberle, UCLA,
Los Angeles, U.S.A.
Sunday June 24 at 8:30 – 9:00
####
Profile
Dr Denise Aberle is a professor of Radiology and Bioengineering and was the Section Chief of Thoracic Imaging at UCLA Medical Center. She is currently leading one of the largest prospective lung cancer screen trials in the U.S.: the NLST (National Lung Screening Trial), a multi-center national endeavor.
In addition, she is involved in, and the coprincipal investigator for, multiple NIH research projects. Part of the UCLA Medical Imaging Informatics Group, with research interests focusing on imagingbased clinical trials and medical data visualization, Dr Aberle is also the Curriculum Chair for the UCLA Medical Imaging Informatics' NLM training program.