RSNA 2007
NOVEMBER 25-30 , 2007 Chicago

About 27,000 healthcare professionals from over 100 countries attended RSNA 2006. These included over 5,000 European clinicians. In addition, over 28,000 people from non-US countries manned about 750 exhibition stands.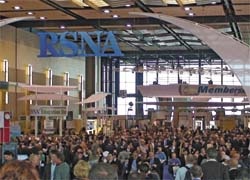 This year's theme, Connecting Radiology, emphasises the research and education that can emerge when science, technology, ingenuity and patient care are merged within the field of radiology. The conference includes two new major cross-discipline programme tracts: a four-day programme focusing diagnostic imaging and radiation oncology in one specialty each day and a day-long molecular imaging symposium.
The most advanced Italian radiology research programmes will be highlighted in the integrated science and practice session Multicentre Trials on Screening and Research, sponsored by the Italian Society of Medical Radiology.
A day-long mentored case review course on Cardiac CT is being co-sponsored with the North American Society for Cardiac Imaging.
The Eugene Pendergrass Lecture will be presented by MRI and CT densitometry expert Dr Elias A Zerhouni, Director of the National Institutes of Health, the USA's pre-eminent medical research organisation consisting of 27 research institutes and centres. Dr Zerhouni oversees NIH's annual medical research budget of $27 billion.
The status of past, present and future breast imaging will be the topic of the Annual Oration in Diagnostic Imaging, presented by Professor Lawrence Bassett, head of breast imaging of UCLA Healthcare (Los Angeles).
For The Annual Oration in Radiation Oncology, Dr Allen S Lichter, currently CEO of the American Society of Clinical Oncology, will discuss the cost of cancer care from the perspective of near-term strategies and long-term solutions.
More than 200 scientific sessions representing 16 subspecialties are scheduled for 1,500 presentations. 1,300 educational poster and computer exhibits will be displayed.
A two-day series of refresher courses will be presented in high-res chest CT, gastrointestinal, paediatrics, breast imaging, neuroradiology, ultrasound, nuclear medicine, and interventional radiology.
A variety of special focus sessions include one that presents the differences between European and North American perspectives of radiation dose for MDCT.
Apt for our times, two courses will focus on the role of radiologists following natural or terrorist disasters.
Radiation oncology, in head and neck, gastrointestinal, thoracic and prostrate cancers, will receive special attention in BOOST (Bolstering Oncoradiologic and Oncoradiotherapeutic Skills for Tomorrow) a programme in which each will be discussed by experts in radiology oncology, diagnostic radiology, biology and physics. The focus will be on precision imaging.
Quality control in radiology: As a result of a survey by the RSNA's Continuous Quality Improvement Initiative Committee, a new day-long, multi-session symposium will be offered. The Quality Improvement Symposium will discuss principles, methods, measurement metrics and examples to provide tools for implementation of a quality control programme that the American College of Radiology and the RSNA would like to see all radiologists undertake. Dr Lawrence S Lau, chairman of the International Radiology Quality Network, will moderate a session demonstrating quality improvement cycles with specific examples. Also associated with the Symposium is a course showing how IT can help to create a systems approach designed to measure and minimise radiology errors.
The international initiative Integrating the Healthcare Enterprise (IHE), will this year emphasise its Image Sharing Demonstration, which also extends to exhibitors in the Technical Exhibition. One demonstration area will feature products compliant with the IHE Teaching File and Clinical Trial Export (TCE) profile, systems that will send images to the most recent prototype of the RSNA's My MIRC Files – a new Web-based file system that enables radiologists in academic and clinical practice to digitally store teaching files.
If, despite all this, you find spare time, Chicago is a vibrant city indeed.
By Cynthia Keen