Video • Webinar
Reducing Airborne pathogens within Hospitals
Air Quality is important in hospitals for protecting patients, staff and the sensitive processes which are involved in running a hospital.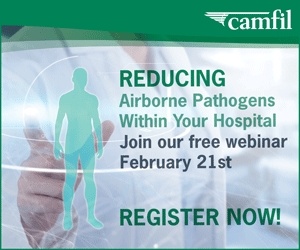 To help hospital teams learn about how they can measure and improve air quality within their hospital, Camfil are running a free webinar for hospitals. In this webinar Anders Hedstrom, Global Indoor Air Quality Manager at Camfil, will discuss
The importance of Air Quality
How Air affects the Human body
The types of air quality issues that hospitals experience
The importance of air quality in Negative pressure environments
Reducing Mould issues in hospitals
Register for this webinar https://register.gotowebinar.com/register/1862729216384843777
Understanding the air we breathe is essential to solving any indoor air contaminants that may be present in your hospital. Camfil have worked with hospitals worldwide to help improve the air that their patients and staff breathe.
One such hospital that Camfil helped to protect their patients health was St.James Hospital in Dublin. During construction works Aspergillus gets released into the atmosphere. This mould/spore has the potential to be very damaging to patient health, especially low immune patients. Watch the case study to learn about how Camfil worked in partnership with St.James Hospital to combat this potential risk
Source: Camfil