Radiographers share expertise at ECR 2009
The Josef Lissner Honorary Lecture
Although the majority of the 18,000 participants at ECR 2009 were radiologists, medical writer Rob Skelding reports that a specific session for radiographers was well attended. The event also underlined the value of their interpretive skills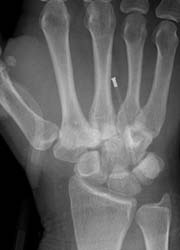 During the Extended Role of Radiographers in Europe session, at this year's ECR, expert practitioners showcased their diagnostic capabilities and highlighted the need for standardised 'quality image evaluation' protocols.
Dr Bargy Ween, of the Rikshospitalet University Hospital, Norway, discussed the risk of missed lung cancers on chest radiographs, resulting from a poor radiographic technique and lack of universal image evaluation methods. Most notably, she highlighted the need for a 'radiography lung cancer grading scale', akin to the model used in mammography.
'When it comes to lung cancer – the most common form encountered worldwide – high-quality radiography is a prerequisite to a correct diagnosis,' she told delegates.
Following a Delphi study (focus group discussions and questionnaires) which considered results from 21 radiographers and 13 radiologists working in Norwegian hospitals, Dr Ween spotlighted several key problems hampering chest radiography in Europe:
• Poor technique (variable education and supervision) produces sub-optimal images
• Radiologists do not work closely with their radiographers – communicating only by telephone; not being available for consultation
• No universal standards as to what is 'acceptable or good' chest X-ray analysis
• Less experienced radiographers are often positioned in the 'chest room', but many lung cancer cases require an expert eye.
A significant issue was the lack of formal guidelines on how to use and maximise the advantages of modern digital radiography software – and a need to agree quality control parameters.
'We are not working with film images anymore. Today's radiographers use digital technology producing dynamic data information flows. We need gold standards in this area – and they should focus keenly on cancer detection,' she noted. 'If radiographers are responsible for post-processing, we should agree universally on the appropriate body rotation and arm positioning grades, for example, plus parameters for visualisation of sharpness and noise.'
Dr Ween suggests using the results of her study to create a grading scale for radiographic chest image quality evaluation. This could be implemented as a peer practice model, acting as a link between image evaluation and practical work.
Key radiography skills (trauma image interpretation)
Neil Kinsman and Lindsay Goswell from a National Health Service (NHS) hospital in Poole, UK, lectured on the basic methods radiographers should use when evaluating and interpreting trauma images. Because radiographers are frequently called upon to assist junior doctors and nurse practitioners without sufficient experience to make a full, accurate diagnosis from an X-ray, this is a crucial skill. In this light, proficient radiographers should hold a thorough knowledge of 'normal variants' as much as diseases and fractures.
The speakers discussed an effective method of 'image comment' that has been employed at Poole and many other UK hospitals – and shown to improve diagnostic accuracy, and subsequently the patient experience. The method aims to help radiographers to
• Develop a systematic approach to image interpretation
• Recognise injury (particularly X-rays showing multiple injuries)
• Provide an accurate and useful description for radiologists
Trauma images (some typical, others not so common) were displayed, accompanied by an explanation and practical advice on good radiographic practice in each case.
They concluded that X-ray is too often overlooked as a valued modality, particularly when compared with ultrasound or CT. However, the sharp skills and detailed knowledge of a good radiographer remain vital to a swift and accurate diagnosis –which, ultimately, has a significant bearing on the patient experience and hospital resources. Listed in the box are some of the most common cases seen in a trauma department.